Missouri is home to more than six million people and has some of the largest urban areas of the country including Kansas City, St. Louis, Columbia, and Springfield. This state boasts of rich history and culture that blends the Midwestern and Southern American elements. Missouri is also a major brewery center of the world. A vibrant economy of the state offers a good deal of highest paying jobs in Missouri.
The economy of this state is highly diversified. Some of the major industrial sectors of this state include Aerospace, Chemicals, Food processing, Transportation as well as Manufacturing. The state adds a lot of jobs and billions of dollars in the US economy every year through these as well as Healthcare, Hospitality, and Services sectors..
Missouri is also a mining state and leading producers of natural resources including iron ore, lead, zinc, limestone and timber etc. With so many career opportunities available, finding the right job can be confusing as well as overwhelming.
How to Find & Land Highest Paying Jobs in Missouri?
The old school local job hunt (exploring job posting sites and applying for positions) may work sometimes in MO, United States, but you should not rely on it entirely. Whether you are a fresh grad looking to start a career from scratch or you are at mid career level and want to switch jobs for better career growth, having access to multiple channels for finding jobs is always a great idea.
You can use LinkedIn for career growth as well as sign up with multiple employment agencies in your city or any other city in the state, to have access to a larger pool of jobs. Job placement and employment agencies can in fact be more helpful than you can think of, i.e. they can help you with a professionally written resume and a good cover letter that attracts employer's attention, guide you through tough job interview questions and assist in overall job interview preparation.
Moreover, many of the leading employers in Missouri prefer to send job openings to the recruitment agencies only and do not advertise otherwise, so many highly paying jobs may not be found otherwise. Having your updated resume with these employment agencies can significantly improve your chances of landing a higher paying job.
Here are some of the city specific job placement agencies and recruitment firms in Missouri that can help you find your dream job.
Now let's see what are the highly demanded professions in Missouri that are also paid the highest salaries.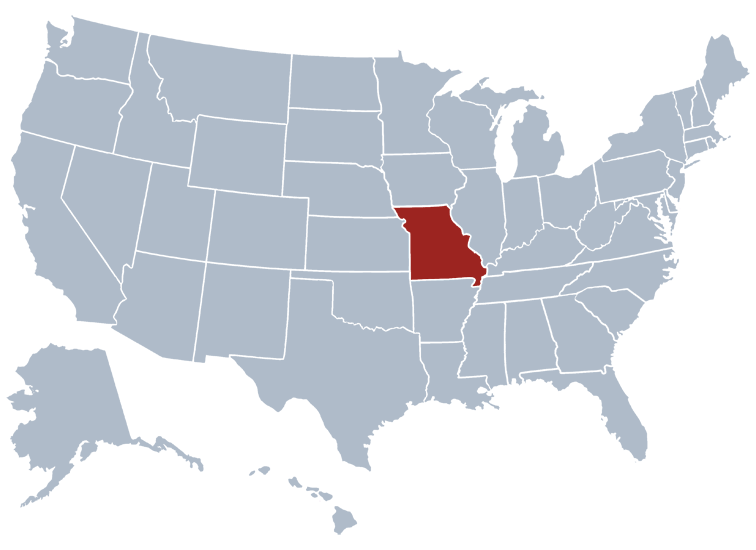 Top Careers & Highest Paying Jobs in Missouri, United States
Following is the list of top 10 highest paying jobs in the state of Missouri, where Healthcare professions top the list, but not all ten are from the same sector. In fact, top highest paying jobs in Missouri are a very good mixture of multiple industries.
Let's explore the list.
1- Family Medicines Physicians
With an average salary of about $196,200, family physicians top the list of highest paying jobs in MO, USA. These are qualified medical professionals who possess desired skills, knowledge and attitude that enable them to take comprehensive medical care of each and every member of the family.
Family Physicians undergo specialty training in various disciplines of primary care to provide the best care to a family. Due to the increased demand for healthcare for families across this entire state, this category of physicians is in great demand these days.
2- Specialists Dentists
With around $189,700 of an average salary, specialist dentists, like orthodontists are the second most paid professionals in the state of Missouri. This field of dentistry is different from regular dentistry.
A specialist dentist performs complicated dental treatments other than root canal treatments or other surgical root procedures. They are specialists as they have undergone training beyond dental school and specialized studies focussing on diagnosing the pain. As it's a specialized field, the people in this profession make better money than regular dentists.
3- Nurse Anesthetists
They are the medical professionals who provide anesthesia to the patients undergoing surgeries or treatments in order to keep the pain away. A lot of surgeries and medical procedures are being carried out on patients in the state of Missouri, US, and thus the demand and remuneration of nurse anesthetists are quite good and these anesthesiologists make around $177,640 per year.
4- Chief Executives
As mentioned earlier, Missouri has a diversified and thriving economy and thus businesses of all kinds and types can be found in this state. However, one thing that is common between these varied businesses is that they are run by Chief Executive Officers or CEOs.
They are skilled and experienced people who are experts in managing day-to-day affairs of the business and take important strategic decisions towards the betterment of the business. For managing this responsibility and job, these officers are paid quite well and make an average of $157,430 per year.
5- Health Specialities Teachers
They are the educators who impart health education to students, i.e. they teach courses in health specialties, in fields such as dentistry, laboratory technology, medicine, pharmacy, public health, therapy, and veterinary medicine.
They may work in the capacity of an Assistant Professor, Associate Professor, Clinical Professor, Instructor, Lecturer, Occupational Therapy Professor, Pharmacology Professor, Physical Therapy Professor, Professor, or a Public Health Professor. The average annual salary of health specialties teachers in Missouri is around $138,800.
Related Readings
6- Sales Managers
As the businesses across the state of Missouri are flourishing, so is the pay scale of the sales manager of the region. A sales manager is assigned to coach and lead the team of salespersons of a business organization.
Their job includes building and implementing a sales plan, hiring of salespersons and mentoring the team to achieve one common goal which is to maximize the sales. Sales managers in Missouri are paid around $135,660 of an average annual salary.
Related Reading
7- Pharmacists
Due to increased spending on healthcare and consultation of doctors, pharmacists are seeing rapid growth in their businesses. A pharmacist typically is into the business of providing prescribed medicines for the patients and offering their expertise on their safe use.
Pharmacists in the state of Missouri are paid on an average $128,670 per year.
8- Marketing Managers
These managers play a very important role in promoting the products and services of an organization. They develop various strategies and are responsible for overlooking their execution in order to achieve the desired results.
The role of the marketing manager is to spread awareness of the brand or the product and increase customer engagement through various marketing activities. Marketing managers in Missouri make an average of $125,560 per year.
Related Readings
9- Aerospace Engineers
It is relatively a newer field as compared to the other career options but has got great potential in the future. Aerospace engineers deal with the research and development of aircraft.
There is a huge demand for aerospace engineers in both the public as well as the private sectors in this state of the US. It is a highly skilled and technical job and thus the compensation is also highly rewarding. Aerospace engineers in MO, United States are paid about $110,560 per year on average.
Related Readings
10- Airline Pilots, Co-Pilots & Flight Engineers
This sect of professionals make a lot of money and is a fun and exciting career for those who love to travel. This career is expected to grow more than the national average over the next ten years and will add thousands of job opportunities.
As airlines fight to maintain their dominance in the market, the salaries of skilled pilots, co-pilots as well as flight engineers are touching new heights and these professionals are paid about $106,120 per year.
Related Readings
The Bottom Line
Whether you are planning a relocation or looking for highly paying local opportunities, I am sure, you would have got a quick insight into the Missouri job market with the above list of top careers and highest paying jobs in MO, United States.
You May Also Like