Medical and healthcare are among the most reputed fields to have a career in. A career in this noble field can be highly rewarding and that is why a lot of people want to take up medical jobs but are unable to either get into or pass a good medical college. You may be thinking that a medical school is the only ticket to medical jobs, but there are many high paying medical jobs with little schooling that are not discussed quite often.
Contrary to the popular belief you can still work in the medical and healthcare field without having to attend a medical school or a college. Apart from professional qualifications like surgeons and physicians, there are many other medical jobs that involve relatively less education and pay a decent amount of salary.
Related Reading
Highest Paying Jobs Without a Degree
That's not all, these high paying medical jobs with little schooling can also grow exponentially in the coming years and will become sought after. 
Let's explore what are the best options and high paying medical jobs with little schooling.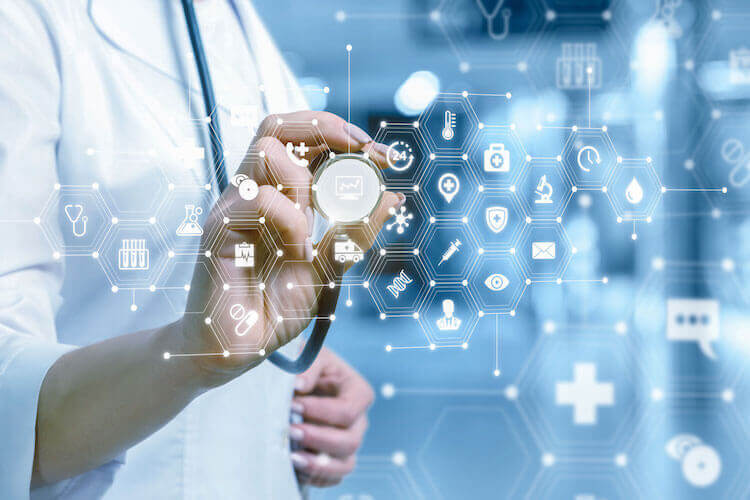 1- Radiation Therapist
Radiation therapists top the list of high paying medical jobs with little schooling. Their job role requires administering radiation treatments to patients suffering from cancer. They are trained to operate sophisticated machines that treat cancerous parts in the patient's body.
It is important to note that Radiation therapists work at hospitals, outpatient centers as well as physicians' clinics, etc. To start with this career one needs to obtain an associate degree and have has the option to pursue a graduate degree in the future. The average salary of a radiation therapist is $114,186 per year.
2- Physician Assistant
They work under the supervision of physicians and their job role demands obtaining patient histories, diagnosing illness, performing examinations, and suggesting preventing health procedures. In addition, Physician assistant also assists their supervisors in surgical operations. 
They may work at private clinics, hospitals as well as other healthcare institutions. You can start your career as a medical assistant and can get promoted to physician assistant. The average salary in this profession is $105,627 per year, making it second on the list of high paying medical jobs with little schooling.
3- Ultrasonographers
They are also referred to as ultrasound technicians and they evaluate different types of conditions in the patients using high-frequency equipment that helps the doctors as well as other healthcare professionals to diagnose the ailments.
So, a person with an associate degree or a training certificate can enter into this course easily. An ultrasonographer makes around $91,250 per year. 
Related Reading
4- Dental Hygienist
The primary responsibility of a dental hygienist is to assist a dentist in providing preventative oral care to patients. In order to become a dental hygienist one needs to have an associate or bachelor's degree.
Not to mention, a dental hygienist performs an examination of existing teeth conditions, performs routine cleanings, and may assist a dentist in carrying out dental surgeries. A dental hygienist gets paid around $79,456 per year on average.
5- Health Services Administrator
The job of a health services administrator is to plan, direct as well as coordinate medical and health services. They may manage an entire hospital, a specific department, or even a group of physicians. Their task is to ensure smooth operations of the facility or departments that they are responsible for.
Normally, a health services administrator is required to have a bachelor's degree, but a student can choose from a range of accelerated programs that may help to advance in the field faster. The average salary in this profession is $71,846 per year.
6- X-Ray Technician
You might never have thought that X-Ray technician is among the high paying medical jobs with little schooling. Well, this is and they are also referred to as radiologic technologists and their primary job role is to perform diagnostics and imaging procedures with the help of various radiologic equipment. They perform, interpret and analyze the results and provide all the details to qualified healthcare professionals.
A student can become an X-Ray Technician by completing an accredited radiological student course or an associate degree. The average pay in this profession is $65,020 per year.
7- Surgical Technician
They are allied health professionals who are part of the team that is tasked to deliver surgical care. Their job is to prepare and transport patients for various medical procedures. They also perform a critical role in assisting surgeons during various medical procedures.
A surgical technician is skilled in sterile and aseptic techniques. One may start in this field by attending an accredited surgical technician program or an associate degree. The median pay for this job is $62,649 per year.
8- Nutritionist
Nutritionists today are paid very well and so are among high paying medical jobs with little schooling. Growing concerns about health have made nutritionists a lucrative job profile. They are food and diet experts who suggest healthier eating habits and their impact on health. A nutritionist can specialize in different areas like public health, animal nutrition or sports nutrition, etc.
To start with this profession one needs to clear an associate degree or a certified program. However, in some countries, a person can claim to be a nutritionist with certain certifications and without any formal university education or training. The median pay in this profession is $53,059.
9- Physical Therapy Assistant
A physical therapy assistant or PTA as commonly referred to works under the supervision of a physical therapist. They implement components of patient care, help physical therapists in providing massages, exercises & balance-based approaches and also obtain data related to the treatments that are provided to the patients.
Physical therapists are high in demand not just in hospitals and clinics, but also in nursing homes, and elderly care facilities. The average salary of a physical therapy assistant is $48,505 per year.
Related Reading
How to Become an Occupational Therapist
10- Health Information Technician
They are trained technicians who manage and organize medical data. Their core responsibilities include the collection and analysis of healthcare and medical data. Additionally, they can also track treatments and provide administrative support to the management. Health information technicians are in great demand in hospitals, assisted living facilities, and various healthcare institutions as they help to streamline the data processes.
With an associate degree, one may become a health information technician, however, some hospitals do demand at least a bachelor's degree to enter into this profession. The median pay of this job profile is $47,891 per year.
Related Reading
How to Become a Data Scientist
The Bottom Line
The healthcare sector is full of opportunities beyond the jobs that require medical school education or a medical degree. Home health aide, medical equipment technician, medical transcriptionist, medical assistant, medical biller, dental assistant, and a lot more job profiles are to be named when it comes to medical jobs with little schooling.
If you are looking to pursue a career in the healthcare field, but are not really interested in attending a medical school, you must know that there are multiple options available and there are tens of high paying medical jobs with little schooling!
You May Also Like