The United States of America has got a great economy and is one of the most prosperous countries in the world. The job outlook in the country is also quite interesting and there are a lot of highest paying jobs in the United States that excite professionals from all around the world. And so, U.S is a dream destination for many people around the world to work and live here.
Jobs of almost all kinds are available in the country, however, the overall job market is quite competitive, and so landing a dream job might not be as easy as it may sound. However, with the help of reliable employment agencies, the local job search can be hassle free.
The private sector is a major employer in the United States and Manufacturing, Retail Trade, Professional Services, Financial Activities, Construction, Healthcare, Leisure & Hospitality are the most prominent industries of the US economy.
With robust infrastructure and abundantly available resources, the workforce productivity of the US is also unmatched.
More importantly, there are certain jobs that do not pay well in the US, but there are many jobs that are the highest paid in the country. This article will list the highest paying jobs in the United States of America. If you are a professional in any of these fields, the list can be quite handy to know your salary worth.
The list of highest paid jobs in the US may slightly differ from the state specific top paying jobs which you can follow individually through the links below:
Top Careers & Highest Paying Jobs in the US
Here goes the list of highest-paying jobs in the United States of America and interestingly, the top 6 spots are covered by the jobs in the Healthcare sector which is evident of the constantly increasing demand.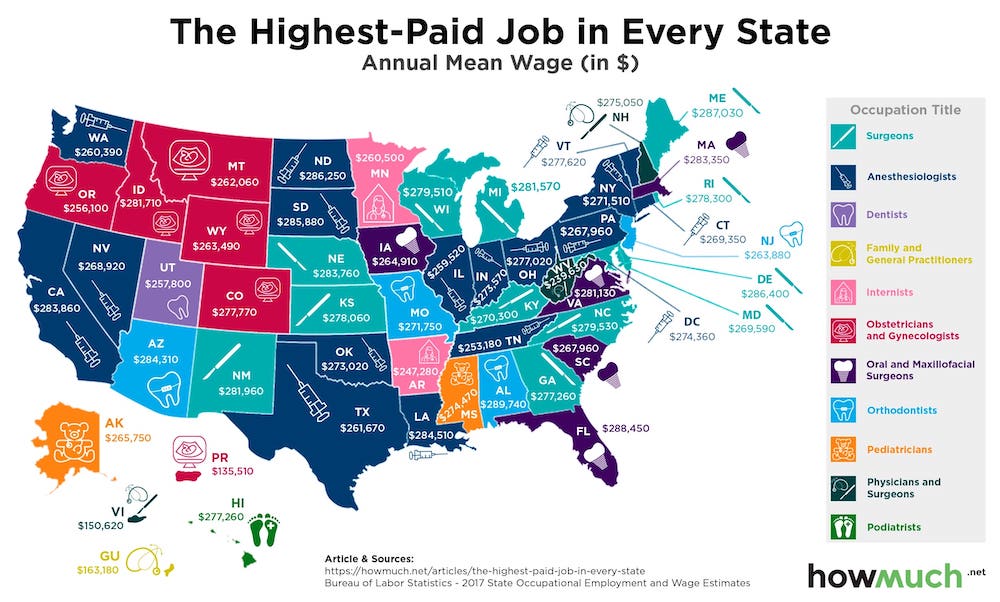 1- Anesthesiologists
An anesthesiologist is a qualified doctor who practices anesthesia. They get employed widely across various healthcare institutions in the country. They specialize in preoperative care and anesthetics administration.
It is important to note, this job requires a lot of attention and unpredictable working hours and thus enjoys an average salary in the range of $326,296 per year.
2- Surgeons
This is another category of healthcare professionals who make decent money in the United States. They are well-trained physicians who specialize in conducting various types of surgeries.
Additionally, there are many types of specialized surgeons and their pay scale varies depending upon the specialization they hold. Nevertheless, all of the types require years of education and training. Among the top paid surgeons are oral and maxillofacial surgeons who on average make roughly $252,040 every year.
Related Reading:
High Paying Medical Jobs with Little Schooling
3- Obstetricians & Gynaecologists
They are medical professionals who specialize in female reproductive health. They are also responsible for childbirths and post-delivery care.
Furthermore, Obstetricians & Gynaecologists are also qualified enough to address various general health needs including diagnosing and treating common ailments & refer people to other specialists if the need arises. The average annual salary in this profession falls around $233,610.
4- Specialized Dentists
Dentistry is another specialized medical division which involves years of education, training and practise. There are several kinds of dentists including orthodontists and prosthodontists who perform complex procedures to ensure dental hygiene of their patients. Specialized dentists earn around $230,830 per year in the US.
Related Readings
How to Become Dental Hygienist
5- Psychiatrists
Mental health has become a serious issue thanks to the widespread awareness it has created in recent years. Unlike earlier, people are more open now to discussing and acknowledging mental health issues and are looking for ways to solve them. 
However, this has led to a jump in demand for psychiatrists who are now being widely employed in hospitals, rehabilitation centers, agencies, and even business organizations and earn handsome salaries in the range of $220,430 per year.
6- Family Medicine & General Physicians
Family medicine and general physicians are probably the first lines of defense against any health problems. They are the physicians who diagnose, treat as well as prevent some of the most common injuries and diseases that affect the general population.
Nevertheless, they conduct periodic health check-ups and monitor the health of their patients. The average salary of a family medicine or general physician in the US is around $206,500 per year.
7- Chief Executive Officers
A chief executive officer or CEO of any organization enjoys one of the highest salaries in the organization. It is one such paid profession whose salary is comparable to that of a specialized field such as engineering or healthcare.
A CEO is supposed to do various tasks but the aim of all of them is to steer the organization toward growth and prosperity. The mean salary of a CEO is around $193,850.
Related Readings
8- Airline Pilots & Flight Engineers
Aviation is one such industry that is showing expansion with time. Airline pilots and flight engineers are critical to businesses like airlines, the airforce, and other aviation service providers.
The role of the flight staff ranges from flying aircraft to monitoring flight status to performing plane maintenance. Long working hours and a lot of time away from home make it a tiring and demanding profession and these professionals get usually paid in the range of $147,220 per year.
Related Readings
9- Chief Technical Officers
A chief technical officer or CTO of a firm usually heads the firm's information & technology processes, systems as well as the workforce. They evaluate the IT requirements of their firms and adopt processes and methodologies to achieve the same. 
Usually, a CTO is a very experienced and skilled person and enjoys a salary of around $146,360 per year.
Related Readings
10- Architectural and Engineering Managers
The job of the architectural and engineering managers is to train and lead their respective technical teams to achieve their goals. The job demand in this sector is growing at a rapid pace and so is the pay scale which is around $144,130 per year.
Related Readings
11- Oil & Gas Field Engineers
Oil and gas fields are present at various places in the United States and extracting these energy sources is not an easy task. It requires a special team that has knowledge of the potential sites, specialized tools, and local weather conditions.
The oil and gas field engineers come from a technical background and have sound knowledge of the entire extraction process. The salaries of oil & gas engineers in the country are approximately $137,720 per year.
Related Reading
5 Tips for a Successful & Rewarding Oilfield Career
12- Judges and Magistrates
Judges are law officers who are required to deal with legal cases ranging from petty traffic violations to serious crimes. Judges form an important part of federal and state court systems. 
On the other hand, the work of magistrates is more like a ministerial role where they review criminal complaints and oversee bail applications besides ensuring law compliance. They make around $136,910 per year.
13- Marketing Managers
These talented professionals are assigned the task of maximizing the sales of product or service of the firm through marketing. Their main tasks include spreading brand awareness, creating a loyal customer base and attracting potential customers.
It is noteworthy, companies spend huge amounts towards marketing efforts and it is the responsibility of marketing managers to justify the expenditure by achieving their marketing targets. A marketing manager makes around $136,850 every year.
Related Readings
14- Finance Managers
Some of the most common tasks assigned to finance managers include creating reports, auditing accounts, and dealing with day-to-day payments of the organization. 
These managers are good with numbers and money and are responsible to manage the financial obligations of the firm. The mean salary of a financial manager in the United States is approximately $129,880.
Related Reading
Job Options with Degree in Accounting
15- Pharmacists
Their job is to provide prescribed medicines to the patients. They also inform the patients about the dosage, side effects, and other information related to the prescription. A pharmacist makes around $128,090 every year.
The Bottom Line
While some people might be thinking that they may get higher pay in another country and it can be true in some cases, however, if you are a professional from one of the above trades, living and working in the United States is the best choice.
If you are a student comparing university courses to make a profitable career choice, or you already have enrolled in a course and looking to know what to do with your degree, the above list can be quite helpful to identify opportunities.
You May Also Like