Looking to know how to become an occupational therapist, and what it takes to have a successful career as an OT? This article is certainly for you. Well, occupational therapists are health professionals who provide practical support to help people resolve barriers caused by several conditions, illnesses, aging, or injuries that are stopping them from having an independent life.
OTs work with people of every age to help them participate in activities they find most meaningful.
According to the Bureau of Labor Statistics (BLS), OT jobs are on rising, with projected 24% employment growth between 2016 and 2026.
According to the US Bureau of Labor Statistics, the estimated OT assistant jobs will grow by 32% by 2029.
This field has a wide range of specializations and positions, which give OTs many career paths. Pediatric OTs works with children having physical and mental disabilities and handling them for several diseases like Autism Spectrum (ASD), Cerebral Palsy, and Attention Deficit Hyperactivity Disorder (ADHD).
Neonatal OTs provide care and support to newborns to treat sensual, motor, or behavioral issues in a Neonatal Intensive Care Unit (NICU).
Gerontology OTs helps and supports aged people with Alzheimer's disease, Arthritis, etc. in their homes, workplaces, and their communities.
Occupational therapists can work in settings like:
Hospitals
Inpatient analysis centers
Nursing or convalescent home
Schools
Patient's homes
Privately owned clinics.
So, if you enjoy helping those who struggle with physical limitations, a career as an occupational therapist is the right choice and among one of the highest paying jobs in the U.S. as well as in many other countries.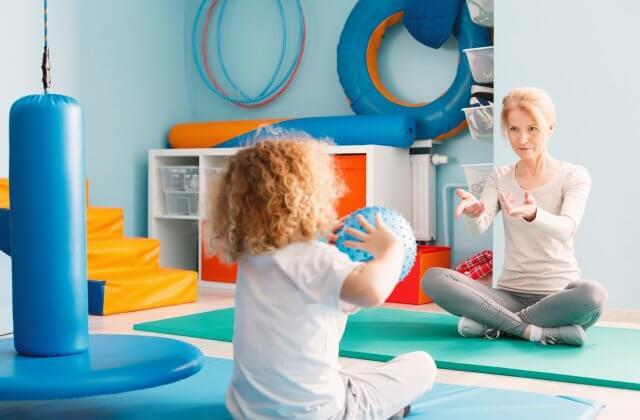 How to Get into Occupational Therapy?
To know how to get into occupational therapy and how to become an occupational therapist, you must know that it requires relevant education, apprenticeship, and proper licensing.
Which Degree Do You Need?
Almost every state requires OTs to obtain a master's degree. After completing a bachelor's degree, you will need a master's degree in occupational therapy and fieldwork to qualify for a license.
However, to become an OT assistant a bachelor's/ associate degree is enough.
According to the Accredited Council for Occupational Therapy Education, the entry-level degree requirement for OTs will move to the doctorate level by JULY 2027.
Related Reading
Which Major Courses You Need to Take to Become and Occupational Therapist
To get into this program, the compulsory courses you need to take are:
Developmental Psychology.
Abnormal Psychology.
Behavioral Sciences.
Human Anatomy and Physiology I & II (with labs).
Elementary Statistics.
Related Reading
How to Compare College & University Courses?
Common Specializations
Seating and Mobility Specialist (ATP/SMS)
Certified Brain Injury Specialist (CBIS)
Certified Stroke Rehabilitation Specialist (CSRS)
Certified Aging in Place Specialist (CAPS)
Certified Lymphedema Therapist (CLT & CLT-LANA)
Which Exam, License & Certification You Can Take?
You can start by having a state license CPR or Basic Cardiac Life Support (BCLS) certification.
You can also take the National Board of Certification of Occupational Therapy (NBCOT) exam and can pursue additional education and training once you pass the NBCOT and receive your OT license.
Which Skills You Need for Either Occupational Therapist or OT Assistant?
You need to be analytical, enduring, encouraging and safety oriented.
You should enjoy science especially (anatomy & kinesiology).
Enjoy working with the general public.
You need to be an excellent listener & problem solver.
You should know how to treat others.
How to Become an Occupational Therapist
In order to become an independent occupational therapist, you have to follow a long road, i.e. complete the coursework and fieldwork, obtain a license and then work as an assistant occupational therapist under the supervision of an authorized OT.
Here is the step by step guide on how to become an occupational therapist.
1- Associate/Bachelor's Degree from an Accredited Institution
To become an occupational therapist and work as an OT assistant in the U.S, you will need a minimum of associate's degree either by Accredited Council for Occupational Therapy Education (ACOTE) or American Occupational Therapy Association (AOTA).
In addition, you will need to decide between a master's degree (MOT) or a doctorate degree (DOT) to become an independent specialized OT.
A doctorate degree may open doors if you want to work in academia or research so most probably a master's degree is recommended to become an independent OT.
2- Complete Your State Required Clinical Experience
Typically, the clinical experience is through the college in which you studied OT education and the usual amount of experience is 2 months before getting an OTA license.
To become an independent OT except for clinical experience, you will need to complete some observation hours in any hospital (unpaid), and also Graduate Record Examination (GRE) is needed.
3- Take & Pass Certified OT Assistant (COTA) Exam by NBCOT
Before becoming a licensed OTA, you will need to pass the COTA exam by NBCOT. You have to pay $540 to give this exam in paper format and $500 to give it online.
4- Apply for the License
It varies between states but typically you will need to give a licensing fee and be prepared for identification. Finally, you will get your transcript.
5- Apply for OTA Jobs
You are now employable in your state with your Certified OT assistant license. So it's time to search for your perfect OTA job.
How long Does it Take to Become an Occupational Therapist Assistant?
It usually takes you 2 years of full time study in subjects like biology, psychology, and pediatric health, and in addition to courses, you must complete at least 16 weeks of fieldwork to have hands-on work experience.
How Long Does it Take to Become an Occupational Therapist
You will need both an undergraduate degree and a graduate degree and also require a state license exam to become an independent occupational therapist. It will almost take you 6-7 years in education, (4 years of an undergraduate degree and 2-3 years for a graduate degree, if studying on a full time basis).
How Hard is it to Become an OT?
Though, occupational therapy school is very hard because it's not always easy to work with medically complex people. This field ensures that you always get in touch with the latest OT trends, are competent and can work safely in the healthcare field and also need to work in challenging clinical/fieldwork replacements.
Occupational Therapist Salary
Independent OTs earn an average salary of $84,950/year whereas OT assistants earn an average salary of $61,510/year.
The Bottom Line
Now you know how to become an occupational therapist, and it is clear that becoming an OT is hard but it's worthwhile. If you start in this career: focusing on good grades, high GRE scores, and impressive volunteer work will help you to easily get accepted in the school of your choice.
Be sure to continue exploring the new trends in the OT field. You need to be determined, passionate and must have good interpersonal, communication, and team-working skills.
You May Also Like