Airfield operations specialist is an exciting and rewarding career for those looking to pursue a career in the behind-the-scenes aspects of aviation. The airfield operations specialists are the professionals who maintain the entire airfield area of an airport and their job description includes ensuring the safe take-off and landing of aircraft, maintaining navigational aids, performing and heading inspections, and communicating with air traffic control.
If you are looking to pursue such a career, you may already have tens of questions in mind, i.e.:
What is an aviation operations specialist?
What do airfield operations specialists do?
Is aviation operations specialist a good job?
How much does an aviation operations specialist make?
How can I be a good airfield operations specialist?
What are the skills needed to become an operations specialist?
This article will answer all of the above and some more questions related to pursuing a career as an airfield operations specialist.
First and foremost you must know that in order to get into this field one requires an associate's degree, an apprenticeship, and ongoing training. The airfield operations specialists are hired by public and private airports, as well as military airfields to perform a variety of tasks, including ensuring aircraft safety while take-off and landing, regular maintenance, emergency response, and day-to-day management.
Let's explore the insights of a career in airfield operations and find how rewarding the career is, potential growth, job profile, duties and responsibilities, skills, expertise, and required knowledge.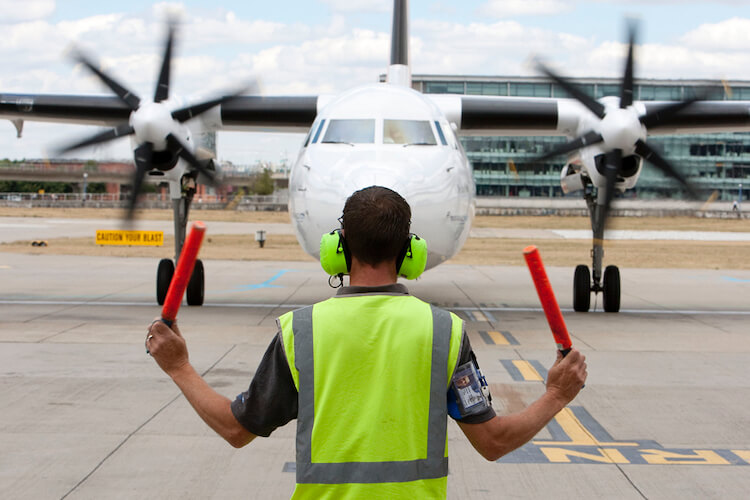 Airfield Operations Specialist Salary
As per the U.S. Bureau of Labor Statistics, airfield operations specialists make an average of $58,360 per year and the demand for airfield operations specialists is likely to grow by about 6% from 2019 to 2029.
Airfield Operations Specialist Job Description
The exact job profile of an airfield operations specialist may vary from airport to airport and country to country, however, the core responsibilities and duties remain almost similar. Here are some core duties aviation operations specialists perform routinely.
Inspect all airport areas, including hangers, runways, and fuel storage areas for compliance with the airport and Federal Aviation Administration safety regulations.
Ensure airfield safety by monitoring weather conditions, maintenance work, wildlife activity, and runway conditions.
Controlling air traffic by coordinating the arrival, departure, refueling, parking, and loading of aircraft.
Directing emergency response units and providing first aid during airfield emergencies.
Required Qualifications & Knowledge for an Airfield Operations Specialist
Most employers require airfield operations specialists to have at least an associate's degree, relevant work experience (apprenticeship with certification), or a combination of both. Multiple universities, colleges, and technical schools offer degree programs as well as certificate courses in aviation which can be a big plus. However, if you already have an associate degree in any other discipline, opting for a certificate course followed by an apprenticeship could be the right direction. 
Other than the academic qualification, one needs to have extensive practical knowledge, skills, and abilities to become a good airfield operations specialist. Read on the details below.
Airfield Operations Specialist Required Knowledge
Knowledge of methods and techniques for the safe takeoff and landing of commercial and military aircraft.
Expert communication knowledge is needed between air-traffic control and maintenance personnel; dispatching; using airfield landing and navigational aids; implementing airfield safety procedures; monitoring and maintaining flight records; and applying knowledge of weather information.
Knowledge of principles and processes for providing customer and personal services
Command over written and spoken English.
Knowledge of principles and methods for Airfield Operations curriculum and training design, teaching, and instruction for individuals and groups.
Knowledge of circuit boards, processors, chips, electronic equipment, and computer hardware and software, including applications and programming.
Airfield Operations Specialist Required Skills
Excellent comprehension and composition skills.
Active Listening.
Active Learning.
Critical Thinking.
Instructing.
Team leading.
Abilities an Airfield Operations Specialist Must Have
Be able to identify Problem sensitivity.
Deductive reasoning to apply general rules to specific problems to produce answers that make sense.
Be able to handle a stressful situation.
Be able to deal with the situations when exposed to hazards such as fumes, dangerous machinery, loud noises, and bad weather.
The Bottom Line
If you are someone who loves the technical aspects of aircraft and aviation, a career as an airfield operations specialist can be a great match for your aptitude, however, it requires you to have strong technical knowledge, skills, and abilities to handle stress and eagerness to learn.
You May Also Like