LinkedIn is a fast-growing platform that has seen phenomenal success ever since its inception in 2003 and has become a popular meeting point for job-seekers, freelancers, and potential recruiters.
Social media is not everyone's cup of tea. Many people might be hesitant to seek employment through a professional social networking platform, more so one whose workings they might not be familiar with.
However, today, recruiters and managers often look up your LinkedIn profile before reaching out to you, and many employers might find your absence from the platform abysmal. Thus, it has become akin to an online resume and will be viewed by professional hiring executives as a supplement to your cover letter and vita.
They'll look for mutual connections, look up your previous employers, and other people who might settle any queries they have about your work ethics and performance. Besides, even you have the option of looking them up. Getting a better idea about your potential recruiters and the company before showing up for the interview is excellent.
Merely having a profile on the platform is not enough. It should be well-updated and regularly maintained to prove viable and for great opportunities to come your way.
Given below are five steps that help create a stellar presence on the platform and help boost your chances of recruitment: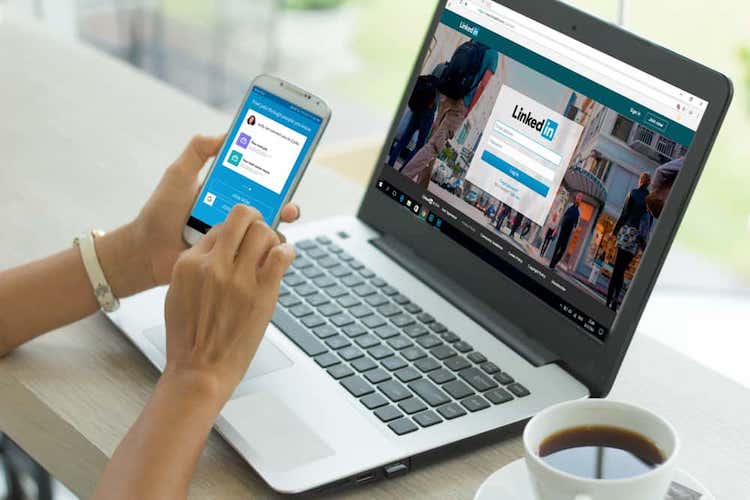 1- Create An Appealing And Active Profile
Your profile picture and title are the first two things recruiters are going to notice. So, take a few minutes to upload a formal picture and come with a concise headline that highlights your central skill or your current work position.
The next step is to summarize your educational qualifications and academic background and the industry in which you work.
Once you're done with that, it's time to move to the "About" section, in which you list down your certifications, experience and highlight your skills. Remember not to make it monotonous and avoid keeping fluff. Use keywords pertinent to your industry.
Next up is the "Featured" section that displays your skill set to employers. Upload your top posts, videos, publications, websites, or SlideShare presentations in this section.
Last, there are the "Work Experience" and "Skills" sections. These two categories are the most crucial aspects of your profile and act as a repository of your achievements. So, write about all your previous experiences. And if you're a fresher, focus on listing all your certifications and skills in the section.
If you're not exactly sure how to go about it, glance through the profiles of some industry giants and make modifications in your profile accordingly.
2- Produce & Share Valuable Content
Just like any other social media platform, LinkedIn allows you to post regular content and achieve visibility. Personal blogs and articles give potential recruiters an insight into your thought process and add to your credibility.
Make it a point to post original and relevant content at least once or twice a week. It'll be even more beneficial if your topics closely align with your area of expertise.
Even if you're not actively looking to switch job, you're opening many possibilities for yourself and building your personal brand by regularly posting content. Start with smaller posts and videos that are more visually striking, and once you gain the required attention, you can move on to longer posts.
3- Grow Your Network
Connect your LinkedIn profile to other social media platforms and synchronize your existing personal and professional contacts with your profile. This helps you connect with people who belong to the same industry as you. Besides, you can create a powerful network.
Join groups and stay updated on the latest news and developments in your field by engaging in discussions with group members and commenting on their posts.
Once you've built your profile and actively start networking, you'll receive connection requests from different people – they might be potential employers, clients, or people whose interests closely align with yours. If you have mutual connections with someone you wish to connect to, use the "Get Introduced" tool.
Besides, there's the "Open To Networking" option for people who're actively networking and searching for mutual connections.
4- Work on Getting Recommendations
LinkedIn has an option for both recommendations and endorsements. You can list specific skills on your profile and have them validated by your connections, thus contributing to your profile's legitimacy. With the option of listing up to 50 skills, you get ample space to build your brand and create a positive image among your network.
Recommendations are slightly different and work as near-substitutes of job references. They carry more weight than endorsements, especially if they come from former employees, colleagues, or professors.
Recommendations and endorsements have great importance and can send many viable jobs your way.
5- Stay Active
It's imperative to stay active on the platform and regularly interact with groups, even if you're not actively seeking employment or looking for career growth.
Post regularly, update your profile and your achievements. Keep an eye on the latest developments and news pertinent to your industry. You can do this by following companies you're interested in and monitoring their job posts.
Your expertise might prove beneficial for startups, so feel free to reach out to new companies' managers and talk to them about potential employment opportunities.
Final Words
Even if you're not actively recruiting or seeking recruitment, LinkedIn is an excellent way to connect with former colleagues, hiring managers, or people who work in your field. Establishing a dynamic presence on a professional platform like this will prove beneficial in the long-run by bolstering your digital presence and building your brand.
By forgoing your identity in the job market, you create an indelible impact on potential employers and colleagues, who're bound to view you as an asset to the industry.