Orthodontists are among the low stress high paying jobs, and so a lot of people want to know how to become an orthodontist and be successful in the field. In the dental field, orthodontics is the specialty that focuses primarily on the correct teeth and jaw alignment. These specialists provide significant value to people suffering from bite problems or those who have maligned teeth.
Orthodontists are first trained as dentists and then they attend a full-time course to specialize in orthodontics. It won't be wrong to say that all orthodontists are dentists but vice versa is not true.
Orthodontists usually team up with assistants and dental hygienists who play a crucial role by providing much-needed hands-on assistance to these specialized doctors while conducting various dental procedures. They not only perform the administrative duties concerning a patient but also prepare the patient for pre-dental procedures to ensure a safe and sound environment for the procedure to take place.
A dental hygienist also looks after patient screening procedures, conducting dental radiographs, and removing calculus and plaque. As usually, the treatments in this field last for years, these specialists must provide ongoing care to their patients.
If you are looking to pursue a career in dentistry and want to become an orthodontist, you may have a lot of queries regarding the field other than just how to become an orthodontist. This article will answer most of the following questions and some more:
Is it hard to become an orthodontist?
How much does it cost to become an orthodontist?
Do orthodontists go to med school?
What degrees do orthodontists need?
Is an orthodontist a stressful job?
Is becoming an orthodontist worth it?
Do orthodontists do surgery?
How many hours a day do orthodontists work?
How much orthodontists are paid?
Which are the best schools for orthodontist education?
How to go from dental hygienist to orthodontist?
Are orthodontists happy or stressed at work?
What are the disadvantages of being an orthodontist?
What pays more; dentist or orthodontist?
Let's find the answers one by one and know how to become an orthodontist, and become successful in the field.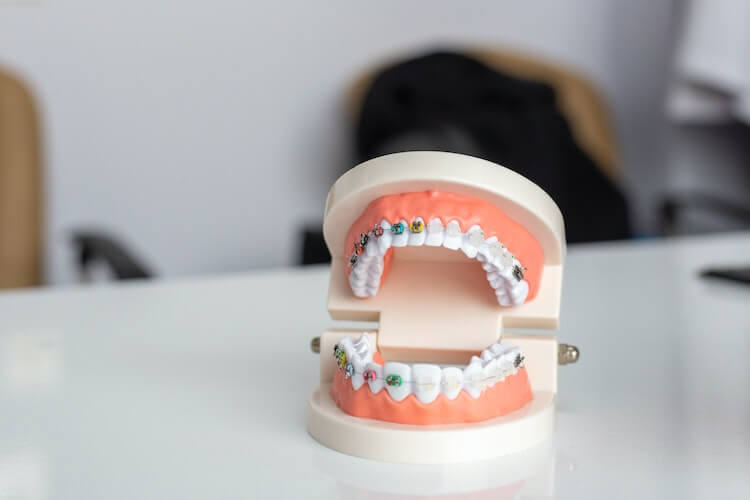 How to Become an Orthodontist?
You might already have explored the idea of how to become an orthodontist, several times, but this article will guide you through each step in its respective order. You must know that becoming an orthodontist is a long road and involves extensive fieldwork other than just academics. Following are the key steps required to become an orthodontist.
1- A Bachelor's Degree
This is a stepping stone of the entire process of becoming an orthodontist. A student may not necessarily have a science degree but must have studied biology, physics, or chemistry in their curriculum to proceed further in this field.
2- Apply & Finish Dental School
With a 4-year bachelor's degree, one can apply for a dental school. You may be required to take a Dental Admissions Test or DAT to assess your knowledge of scientific principles and general academics. Also, dental schools may ask for a letter of recommendation, assess the intensity of your UG programs, and even conduct personal interviews for selection purposes.
Once you have successfully enrolled and completed dental school, you may be awarded Doctor of Medical Dentistry (DMD) or Doctor of Dental Surgery (DDS).
3- Orthodontic Residency
In the final year of dental school, you may choose to apply for a residency program in the advanced dental field, i.e., orthodontics. This residency program may range from 2-3 years depending upon the institution.
4- Getting License
Once all of the above is completed a student has to undertake and clear the National Board Dental Examination. Additionally, states also conduct practical examinations individually before granting a qualified orthodontist permission to operate.
How to go From Dental Hygienist to Orthodontist?
If you are a dental hygienist looking to become an orthodontist or an aspiring orthodontist who wants to become a dental hygienist first and then an orthodontist, the first question that pops up in the mind is how to go from dental hygienist to orthodontist.
Well, it is not that difficult for a dental hygienist to transform into an orthodontist but they have to undergo a specialized course of 3-4 years depending upon the country's educational policy to be certified as an orthodontist.
Also, you must get a practicing license from the local statutory body to be identified as a professional in this field and start practicing.
How Long Does it Take to Become an Orthodontist?
Becoming a specialized orthodontist requires anywhere between 10-12 years. You will be required to complete your university education, i.e. 4 years of bachelor's degree followed by specialized education in a dental school.
Once you have acquired a dental degree then one has to apply for a dental specialty which can range from 2-3 years. There are many schools that will ask for an additional year or two of work experience to consider the course completed in all respects. Once you have undergone the entire process then you may apply for an orthodontist license.
How Much Does it Cost to Become an Orthodontist?
The most important question after "how to become an orthodontist" is "how much does it cost to become an orthodontist". People are usually aware of the amount of hard work and dedication required to become an orthodontist but little do they know about the financial costs of becoming one.
Education expenses are perhaps the biggest cost of an orthodontist's career. The cost of attending a full-time dentistry course may range anywhere between $200,000-$500,000. Some schools also charge the students for the dental equipment used during the course.
Best Schools for Orthodontics & Orthodontology
There are a number of schools in the popular US universities that provide quality dental education and are considered amongst the best in the field of orthodontics. They are equipped with knowledgeable teaching staff and have all the modern dental care equipment for practical use.
Some of the best orthodontist schools in the US include:
Jacksonville University
St Louis University
The University of Texas Health Science Centre at Houston
Seton Hill University
Boston University
University of Southern California
University at Buffalo
University of Iowa
University of Illinois at Chicago
University of Detroit Mercy
Orthodontist Average Salary
Like a lot of hard work, time and dedication are invested in becoming an orthodontist, this medical specialization is highly rewarding in terms of money. The job prospects are great and health institutions shell out a lot of money to hire and retain them.
Besides, many of them start practicing privately and make decent money. The average salary of an orthodontist is $223,223 per year and can be much more for experienced specialists.
How Hard is it to Become an Orthodontist?
The road to becoming an orthodontist is tedious, time-consuming, and competitive. However, once you become one then it's equally rewarding. Completing various dental courses and going through intense practice will lay the foundation of becoming a successful practitioner in this specialized field. It will take typically 10-12 years to be certified and get a practicing license.
Being a part of the medical educational structure, undergoing dental school is also highly demanding. Students need to invest their time in coursework in periodontics, anatomy, and radiology. The clinical practice during the course will provide the hands-on experience of working with the patients.
Is Orthodontist a Stressful Job?
Now you know how to become an orthodontist, and you understand that becoming an orthodontist may be stressful, i.e. the academics, meeting the heavy financial costs, etc. But once you are a licensed professional, the job is not much stressful. In fact, orthodontics is one of the high paying and low stress jobs.
You May Also Like