How you wake up every day and your morning routine strongly affects your intensities of success in every single area of your life. Motivated, creative, successful mornings generate motivated, creative and successful days – which unsurprisingly creates a successful life. Knowing the six morning habits of high performers can help you increase productivity and achieve work life balance.
Apart from skills, intelligence, and opportunities, it's good morning habits that make the difference between high achievers and regular people. Your morning habits set the stage for the rest of the day because if you keep beating the alarm until you realize that you are getting late, what do you think the rest of your day will be?
So, if you want to be a high performer, you must know and acquire the six morning habits of high performers that we will discuss in this article.
Morning Routines of Successful People Vs Not So Successful People
If you get up every day and just bring yourself wherever events and circumstances take you, you are going to end up other than the ideal place. To reach your maximum potential, you need to make your path via daily morning habits which prime you for success and high performance. People who are highly successful in life and have high performance are because they practice the best morning habits of high achievers regularly which other people don't.
Many of the most successful people in the world share the same morning habits. This is no coincidence. There is a reason that high achieving individuals have many morning rituals in common. They know that their personal priorities are more important than other people's priorities. These astonishing people believe that if their priority needs to be done, then it has to be done first.
We all want ourselves to be the most successful, high performers and motivated people, right? That's why the morning habits of high performers offer visions of how they are able to create the successful businesses, products, and accomplishments we see today.
What Some Successful People Say About Morning Habits
I'm always thinking about creating. My future starts when I wake up every morning. Every day I find something creative to do with my life.

Miles Davis
Morning is an important part of the day. How you spend your morning can often tell you what kind of day you are going to have.

Daniel Handler
Some people dream of success while other people get up every morning and make it happen.

Wayne Huizenga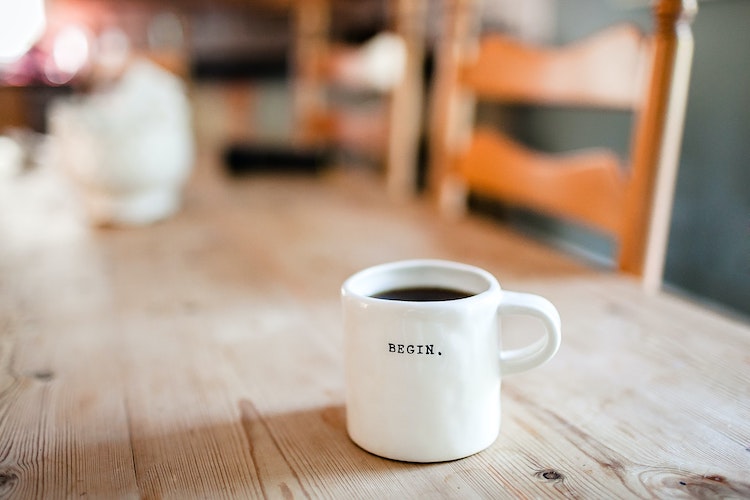 Which Six Morning Habits of High Performers to Acquire?
If you feel this daily lifestyle efficiency is unobtainable, you must know that nothing is stopping you. This article will surely help you in being prepared, organized, and optimistic by adopting the following six morning habits of high performers; you will be able to do it all no matter what the day pitches at you.
1- Have a Good Night's Sleep
The number one among the six morning habits of high performers is to get a good night's sleep and to develop this habit, you must go to bed early.
If you want yourself to be super active in the morning, it's good to wake up from a good night's sleep. It helps to get enough rest so that the body feels energized and excited. Going to bed and waking up with a good night's sleep every day will not only train your body but also allows you to be steady in your morning routine.
Sheryl Sandberg, COO of Facebook in an interview with USA Today revealed one of her top tips for getting ahead in the morning: she makes sure to get a good night's sleep. She always switches off her phone so she's not disturbed overnight.
It is highly recommended to have 7-8 hours of good sleep at night. Sleep duration outside of the 7-8 hours range may have a significant effect on health and well-being including diabetes, blood pressure, obesity, and heart stroke. When you are in poor health physically and mentally, you cannot be a high performer. That's why the most successful people prioritize sleep.
If you have any suffering in having a good night's sleep, solve it by embracing the following tips:
Reduce blue light exposure in the evening.
Don't consume caffeine late in the day.
Try to sleep and wake up at a consistent time.
Participate in physical activities during the day.
2- Get up Early
Nearly all of the most successful people are early risers. Some studies show that 90% of executives wake up before 6 a.m. Successful people in the world are up and going while the rest of the world sleeps. So, early rising is the most important among the six morning habits of high performers.
Businesswoman Martha Stewart said that letting light in her room helps her wakeup. "I have no shades on my room's window so I usually wake up at sunrise. Move your wake up time backward, even just 5 minutes a week until you are part of the pre sunrise morning crew."
If you must be at work by 8 a.m. and you have to travel for 30 minutes to reach your place, a 7 a.m. alarm will not give you enough time for healthy habits like meditation, exercise, and healthy breakfast. Rising early is also great for those who work from home or have small children because it helps you achieve your tasks without any disturbances. So, make it a habit to wake up early every morning like really early.
3- Spend Time in Meditation
It's significant to take care of your mental and physical health when you devote a day to using your brain to its highest capability. Take even five minutes to breathe with intention and reveal what makes you feel appreciative, pleased, and satisfied. Meditation helps you decrease your anxiety level and turn your courtesy inwards.
"When we meditate, we are withdrawing the biological damage caused by stress and disturbance" explains psychiatrist James S. Gordon, MD, a clinical professor at Georgetown Medical School.
According to Business Insider, self-help guru Tony Robbins also exercises each morning, after a protein-packed breakfast he spends 10 minutes meditating.
Though 90% of illness is stress related, meditating to instantly reduce stress while growing your self-awareness and achieving clarity will allow you to uphold your focus on your objectives and what's important in your life.
4- Craft Your Affirmations as Commitments
One of the most beneficial morning habits you can use is the power of affirmations. Elrod defines affirmation as a statement that directs your focus to something having value. By performing affirmations you tell yourself that you are going to accomplish and reach this said goal whereas you also listen to your commitments which should be action-oriented. You confirm your commitments contrasting to who you are and who you want to be.
Here is how Elrod recommends accomplishing the affirmations:
Sustain your goals and commitments.
Focus on the actions needed to fulfill your affirmations.
Ask yourself about the value of things. Why is it necessary to achieve that thing and what it mean for you?
When are you going to commit to obtaining it?
Though the greatest way to keep motivated on what truly matters is to at least set your intention for the day.
5- Journal about Your Thoughts, Gratitude, and Goals
Journaling in general is known as an excellent habit to release your stress and enhance your vision, and it's crucial when we talk about the six morning habits of high performers. Writing a journal every day is a tremendous and healthy habit to acquire.
"Elrod explains his methodology of journaling; he takes about only five minutes, starts by writing down three things he is grateful for and three goals he wants to accomplish for the day".
When you concentrate on your abundance and what you have rather than what you don't have, it will create a habit of gratitude and mindfulness. Journaling and concentrating on your abundance will promote positivity and help you stay focused and productive throughout the day.
6- Set Your Priorities for the Day
Time is precious so successful people don't waste it on getting going; being organized in the morning is a top priority for them. Having your priorities settled and a clear plan for the day is a very good practice because it helps you do the important things by keeping on track.
Arianna Huffington, founder of Huffington Post and Thrive Global says, "She wakes up early, exercises, and sets priorities for the day. This helps her to tackle things in a timely and systematic manner."
Elrod says "this practice allowed me to make huge progress on my goals that once were just imaginations that I never really believed I could achieve"
It only takes a couple of minutes to write them down and then see how it works as a game changer. . If you don't set your priorities for the day in the morning it will result in a lack of focus and distract you by less critical tasks, so you will be less productive.
The Bottom Line
Now you know the six-morning habits of high performers and it's clear that a successful day and high performance depend a lot on what you do in the morning. Your possibility of success and high performance depends on what you decide to do with those precious hours before your workday gets started.
Conversely, life happens to all of us so a piece of advice is not to lose confidence in you if any morning things go off the track, interruptions and disruptions occur, recommit to your morning efficiency plan, and try again. You may ask successful and high-performing people around you who seem to be captivating in the morning, and they will tell you that they even had bad days too- but their secret to success and high performance is their determination.
You May Also Like