Dental hygienists are among the fastest growing jobs around the world, and so they are in demand not just but in the future too. This is why a lot of aspiring medical professionals want to know how to become a dental hygienist and be successful at it.
"Every tooth in a man's head is more valuable than a diamond" (Miguel de Cervantes)
What Does a Dental Hygienist Do?
Before you start learning how to become a dental hygienist, you must know the job description. A dental hygienist conducts different cleanings and examinations to assess the dental health of patients, helps the dentist as required, and works with patients to uphold their good dental health by teaching them about proper dental hygiene.
A dental hygienist has a number of main duties including but not limited to:
Clean and confiscate plaque and stains from the patient's teeth.
Take dental X-rays.
Conduct a patient's initial dental examination and assist the dentist as needed.
Give local anesthetics to patients before their procedures.
Document patient's treatment plan and overall care.
Assess patient's dental health and educate them on good dental hygiene.
A career as a dental hygienist proposes a wide range of challenges. According to the survey conducted by Registered Dental Hygienists, more than half of dental hygienists feel stressed by their jobs on a daily or weekly basis, 67% exposed that an aggressive manager and work burden is the most common cause of workplace stress. Orthodontics on the other hand is one of the low stress high paying jobs, just in case if you want to know low stress alternate careers.
Dentists and dental hygienists work together to fulfill the dental health needs of patients. According to American Dental Association, dental hygienists are in demand both for general dental procedures and specialty procedures like periodontics or pediatric dentistry.
However, continuing in this field you may find yourself overwhelmed with a series of questions like:
What does a dental hygienist do?
How to become a dental hygienist?
What are the opportunities available for dental hygienists?
How much salary does a dental hygienist make?
Which is the best city to start this profession?
How long does it take to become a dental hygienist?
How hard is it to become a dental hygienist?
Which are the best dental hygiene education institutions?
Gratefully, this article will surely help you in finding answers to all your queries and by the end of reading this article, you will know how to become a dental hygienist and have a successful career in the field.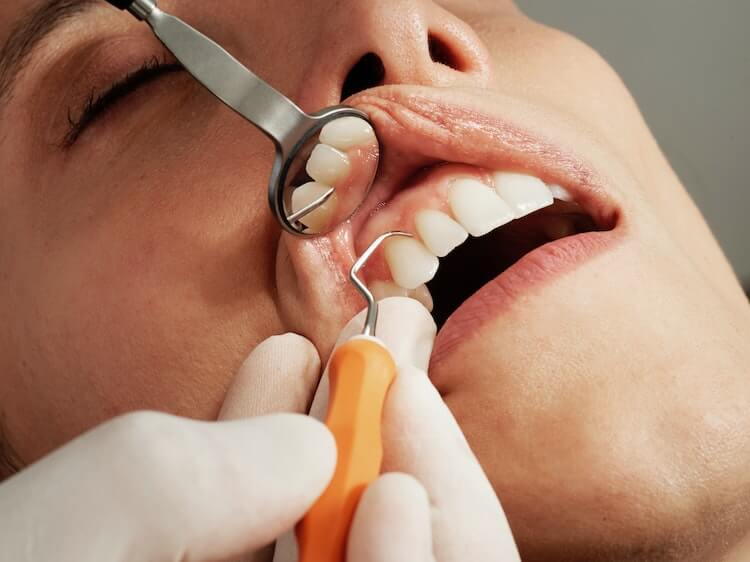 Opportunities for Dental Hygienists
Dental Hygiene is among one of the highest paying jobs and there will be more opportunities in the field in the future, i.e. it is one of the most sought after future careers in healthcare industry.
The Bureau of Labor Statistics projects 6% employment growth for dental hygienists between 2019 and 2029, an estimated 13,300 jobs will open up.
The most common workplace for a dental hygienist is a private clinic but they can also get opportunities to give dental hygiene services to patients in hospitals, nursing homes, and public health clinics.
Dental hygienists can also apply their skills and knowledge to other career options like teaching hygiene students in dental schools and dental hygiene education programs, depending upon the level of education and experience. Employment opportunities also may be available with companies that sell dental related materials and equipment.
Average Working Hours for Dental Hygienists
According to RDH (Registered Dental Hygienists) respondents, 60% of hygienists work full time while 40% work part-time. Full-time dental hygienists tend to work 31-35 hours per week whereas, younger dental hygienists work between 36-40 hours a week.
Dental Hygienist Salary
According to the U.S Bureau of Labor Statistics, dental hygienists earn an average salary of $77,230/year and $38.87/hour. However, your salary depends on your exact position, your level of education, amount of experience, and the setting in which you work. On the basis of experience, a dental hygienist with less than 1-year experience earns $34.32/hour whereas, a hygienist with more than 10 years of experience earns $46.46/hour in the U.S.
Highest Paying Companies for Dental Hygienists in U.S
Western Dental Services ($53.95/hour)
Dental Connections ($52.99/hour)
Larkin Agency ($49.19/hour)
Dental Health Associates ($48.25/hour)
Team Placement Service ($47.82/hour)
Highest Paying Cities in U.S for Dental Hygienists
New York ($44.18/hour)
Portland ($42.49/hour)
Colorado ($40.91/hour)
Austin, TX ($40.61/hour)
Chicago ($39.13/hour)
Detailed Guide on How to Become a Dental Hygienist?
Here is your step by step guide to know how to become a dental hygienist.
How Long Does it Take to Become a Dental Hygienist?
It typically takes between 2 to 4 years to become a dental hygienist. You will need to get licensed with your state and American Dental Association to work as a dental hygienist. It takes you almost 2 years to become a dental hygienist if you pursue an associate degree whereas, a bachelor's or master's degree, typically takes you up to additional 4-6 years.
Ambitious dental hygienists will need to complete certain education and training requirements including the following to become a dental hygeinist:
Complete a high school diploma or equivalent: Coursework in biology, autonomy, physiology and other science specializations can help you for a dental program.
Choose a recognized dental hygienist school and complete an associate degree: Choose the dental hygiene program which is recognized by the Commission on Dental Accreditation.
Complete a bachelor's degree (optional): You may pursue employment after completing your associate degree but ambitious dental hygienists choose to pursue a bachelor's degree and some even go with master's degree as well to work in a research field.
Obtain national and state licensing: You will need a license with your state and National Board Dental Hygiene Examination. The exam is made up of a total 350 multiple-choice questions; you need a score of at-least 75 to pass.
If you also want to pursue in specific specialization in the same field after getting your master's degree, the most common Specializations which can be done include:
Dental hygienist researchers.
Dental hygienist teacher.
Public health advocate.
Pediatric Dental Hygienist.
How Hard is it to Become a Dental Hygienist?
Before searching for the answer for "how to become a dental hygienist", you must know "how hard it is to become a dental hygienist". Well, anything you are learning is thought-provoking. It depends on your meaning of "very difficult" but the key thing is your passion and effective study habits. No matter how hard or easy something is: it's your passion that will keep you motivated to keep ongoing.
As compared to other medical studies, dental hygiene is both physically and mentally difficult, requires a high level of commitment, good time management, interpersonal, communication, and problem-solving skills. You need to be a very good student with very good grades in previous courses and the required general education courses. You need to work very hard to become a successful dental hygienist.
How to Become a Dental Hygienist if You Already Have a Bachelor's Degree?
Let's suppose if you have a bachelor's degree in nutrition, it has a different focus than the education compulsory to become a dental hygienist, but some of the courses may be transferable. Dental hygienists however provide prevention and sanitation treatment to people's teeth so a bachelor's or associate degree in dental hygiene is a must.
If you already have a bachelor's degree and registered license, you can work in a dentist's office, hospitals, private or public clinics, and nursing homes as a professional dental hygienist or can open up your own dental hygiene clinic. You can apply for a 4-year doctoral program to pursue a doctor of dental medicine (DMD) or doctor of dental surgery (DDS) or can go with teaching hygiene students in dental schools.
Well Known Dental Hygienist Schools in the US
The most popular institutes in the U.S which offer dental hygiene programs are:
University of southern California
University of Michigan- Ann Arbor
Vista college- College Station TX
New York University.
Howard University
Challenges While Working as a Dental Hygienist
There are various and diverse challenges in the dental hygiene field. Dental hygienists are expected to do more, know more, and perform at a level that is not even reliable with salary. The most common challenges which dental hygienist faces at a workplace are;
Musculoskeletal issues: Dental hygienists are highly vulnerable to pain in their wrists, elbows, shoulders, neck and lower back. You are required to be seated on dental stools, constantly looking down into the patient's mouth and regular cleanings require moving your arms into unnatural positions causing pain and discomfort. After years of treating patients, most hygienists find themselves to have some type of orthopedic treatment.
Time issues: You may have a lot to do with less time. During a normal patient's visit, there is too much to do in a short time creating stress on the job. This issue is worsened if you don't handle it properly.
Patient issues: You are not only required to perform your job well and quickly but also make your patients feel comfortable. Some patients have anxiety and fear which make it harder to treat them properly in a short period of time.
The Bottom Line
Now you know how to become a dental hygienist, how hard it is to become a dental hygienist, the best schools, and all that you need to know. Though becoming a dental hygienist is a difficult and challenging task, strengthening your passion can make a world of difference in your professional life. You should be enduring, detail-oriented, capable, and positive. Strong interpersonal, communication, and decision-making skills are important.
You May Also Like