During the recession or even in a growing economy, working from home is always a great option. And, we are sure about if after experiencing a pandemic that turned the world economy upside down. This is why not just the tech companies but a lot of other industries are considering to continue work from home in the post pandemic times too.
Yes the new work from home regime is a win win for both employees and employers. At one end it saves your traveling time and cost and on other you get extra time to work, enjoy or rest. For employers, they save overhead costs, get more done in less time and increase profitability by cutting expenses.
According to an estimate you save fuel of about $500 per year working from home (The speed with which fuel prices are increasing, this amount will go beyond these estimates).
In a scenario, when you need spend money with a great care, thinking about part time or full time work from home jobs can really save you. Let's check out what are the highest paying home based options without investment or else with smaller investment.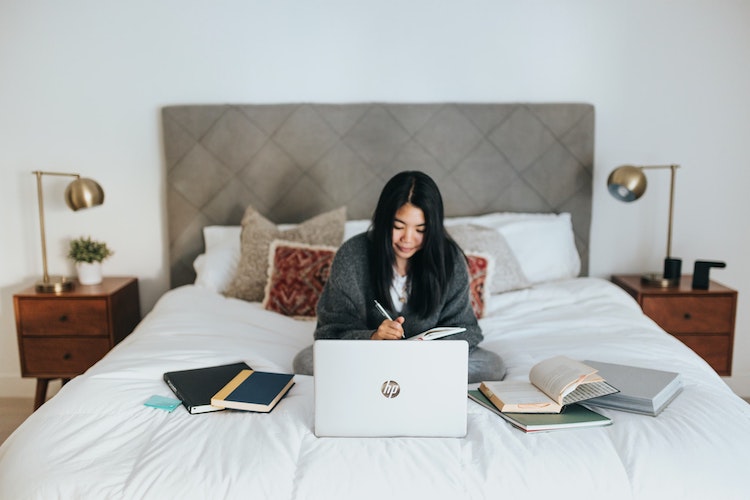 1- Online Data Entry
All you need to have is expertise in browsing and speedy data entry. Some legitimate job portals to get projects from are freelancer.com and dataoutsourcers.com, Fiverr.com. Spend some time researching what kind of data entry services businesses are looking for and create an exciting offer accordingly. For instance, a lot of marketing companies look for blogger outreach services where you can find your unique opportunity.
2- Freelance Software Development
If you've expertise in a specific programming niche, i.e. mobile apps etc, you can make great income working from home. Most of the established companies as well as startups now are considering hiring full time software developers working from home. You may also look for additional opportunities at Upwork, Freelancer, Fiverr and other portals or even Linkedin.
3- Freelance Writing
Definitely it's not for everyone, but for those who have good command over English or any other language in demand and expertise in a particular domain, they can go great with this career option. Here are some resources to get started:
How to Start Freelance Writing Career
Best Places to Get Freelance Writing Projects
4- Graphic & Web Designing
World Wide Web is meaningless without a design. If you're a graphic or web designer, you should know that how rewarding web design industry is. Just think of selling a $10 logo and imagine how many you can make a day!
5- Blogging
Blogging is one of the profitable industries across the world, but you need to know enough about a particular niche to grow. If you're an advertising professional, stick to your field, share your experiences, build audience and money will come automatically, i.e. by opting for ad networks etc.
6- Social Media Influencer
It can be a bit tricky but those who spend most of the time online will get it quickly. If you love to talk and can create valuable content about anything of your interest, this is surely a great opportunity. Once established, you can contact potential businesses to become sponsors or in most cases when an influencer is much in demand businesses reach them on their own.
7- Virtual Assistant
As it costs quite high for businesses in US and Europe to hire assistants in their home country, they prefer people from developing world, especially the South Asian region. Being a virtual assistant you've multiple jobs to do, depending on the business, but if you can use internet very efficiently, you can make great income out of it!
8- Just Being Active on Social Media
You don't always need to be a personal brand or an influencer to make money on Social Media. This is just an out of the way method that might attract those who spend hours and hours on Facebook and twitter. Let's say you've a Facebook page with hundred thousand likes (either funny or something serious) or you are an active participants in some groups with thousands of members or a twitter profile with some thousands of followers, why not to contact relevant business for their low cost promotion!
9- Online Accountancy
Accounting and Bookkeeping services outsourcing is among top jobs in the BPO industry. Almost all freelancing portals have such projects. What you need to have is expertise in operating accounting and bookkeeping services.
10- Interpreter/Translator Service
If you know multiple languages than you can encash your skill while being at home. Set up a webpage, be active on Linkedin and other business forums and start selling your skill!
11- Online Marketing Services
Having expertise in marketing can lead you towards a great earning opportunity online. You just need to know the in-depth of online marketing and you'll make your own way!
Online marketing itself is very complex, so developing an expertise in one or few niches like email marketing, content marketing, SEO & SEM etc will give you a true advantage. Below are some resources to help you grow in the filed of online marketing.
12 Tips to Effectively Advance Your B2B Marketing Career
5 Places to Get Better Email Marketing Jobs & Potentially High Paying Clients
How to Create a Winning Content Marketing Specialist Resume
Email Marketing Specialist Job Description & Required Skills
12- Public Relations Services
Since all the businesses are going online and so they need online reputation building. If you're a PR professional, you don't need to go out now, staying at home you can do much more than that!
13- Legal & Medical Transcription
All you need to have is sufficient supply of legal and medical dictionaries, internet connection and of course a great typing speed. Many of the companies from the developed world prefer outsourcing to the developing countries for efficiency, cost saving and increased productivity.
14- Private Tutor
Although it's one of the traditional jobs, but believe me everyone cannot be a good teacher and so everyone cannot earn that good. If you've expertise in a particular subject, you can make a great living out of it. Accounting, English, Mathematics, Law, Physics and Chemistry are some of the top paying subjects for private tutors.
Pandemic has created more work from opportunities for teachers and any other fields and a lot of online education services like Udemy, Coursera etc have already brought a lot of innovation in the field. However, most of the students still prefer in person tuition. So there are opportunities everywhere, online as well as offline. All you need to do is to prepare yourself for what suits you most!
15- Beautician
For starting a beauty parlour all you need is expertise and a vacant room in your house. This is one of the most flourishing businesses in developed as well as developing countries and so the opportunities are there!
Even if you do not have a space to operate but have excellent skills, you can offer mobile or in home beauty services.
16- Home Based Bakery
Despite the influence of big bakeries, a lot of population prefers to buy from small local businesses. And so, many of baking lovers are operating home based bakeries effectively, even without having a website. Facebook advertising is one of the best mediums for such businesses. Advertise, prepare custom cakes and other bakery products on order and earn good amount. Target your own city only for best results.
17- Home Based Multi Label Store
This is probably one of the easiest things to start, however, you need extensive effort to stay in business. Buy products on retail and sell them online. Use Facebook Twitter and other forums for spreading the word about your business.
18- Food Delivery Service
Careful researches show that even in the well developed cities, many of business hubs are still lacking good food options in surrounding, and a food delivery business can go great in this situation. Get contract with a few offices, decide a weekly menu, take some upfront payment, prepare and deliver food!
19- Consulting Services
If you're an expert in a field, why not to monetize your suggestions and guidelines. Of course initially you need to provide consultancy for free, but always keep the final word subjected to a subscription!
20- Personal Trainer
For those who love body building or staying fit or have a degree in physical education and have enough experience that they can train someone, it's a great option to become personal trainer. A personal trainer with a couple of years of experience in a posh area can earn beyond your imaginations! To take a start you may need to do apprenticeship in a reputed training center!
21- Yoga Instructor
You don't need to buy huge space to run this business, instead take a start with a smaller setup and concentrate of providing quality to your customers! You may start group classes in a public park or offer at home classes or even online classes to get started.
Only with great service, you'll see a list of referrals expanding your business.
22- Child Care Service
In big cities or even small towns where both husband and wife a working a home based child care center nearby can be really great for them and a chance for you to turn your empty space and spare time into a profitable business.
You may not even need your own space if you develop a group of babysitters/nannies and offer at home service.
23- Event Planner
Have you ever planned someone's wedding or a dinner or just something else and it went great? If so you can be a good event planner and turn it into a profession. All you need is to have good connections from where you can get business.
24- Crafts Business
A lot of population loves making crafts, recycling and upcycling stuff and decorating home with that, but it's truly a great business. You can sell online, or have small scale local exhibitions of your work, either at your own house or at a friend's house and see the response on your handmade items. If it goes well, why not to do it often!
Alternatively you may also build a platform for people who make crafts, and focus your efforts on bringing them customers.
25- Computer Repair Service
For geeks who know each and everything about computer hardware and often render services to friends and family, they can have handsome amount out of it!
The Bottom Line:
Job market can be stressed anytime anywhere, or at least we have recently learned through the pandemic to be prepared for a multiple streamed income. Which of the above is your area of expertise and are you ready to start your own home based business now?