Oceanography is the best career for the people interested in studying the ocean and its surrounding environment. However, you may have tens of questions before pursuing a degree in Oceanography for several reasons.
The most common concerns of Oceanography enthusiasts are as follows:
Is Oceanography in high demand?
Is it hard to get a job in oceanography?
Does Oceanography pay well?
Is oceanography a good major?
How much money do oceanographers make?
What qualifications do you need to be an oceanographer?
What can I do with my Oceanography degree?
What kind of jobs can you get with an oceanography degree?
Which industries hire oceanographers?
Are oceanographers in high demand?
The list above and some more related questions might be confusing and it can be hard to decide whether to pursue higher education in Oceanography or not.
This article will answer all of the above queries that you have regarding job options and career prospects with an Oceanography major. Read on to know about jobs, career scope, expected salary and growth potential in the field of oceanography.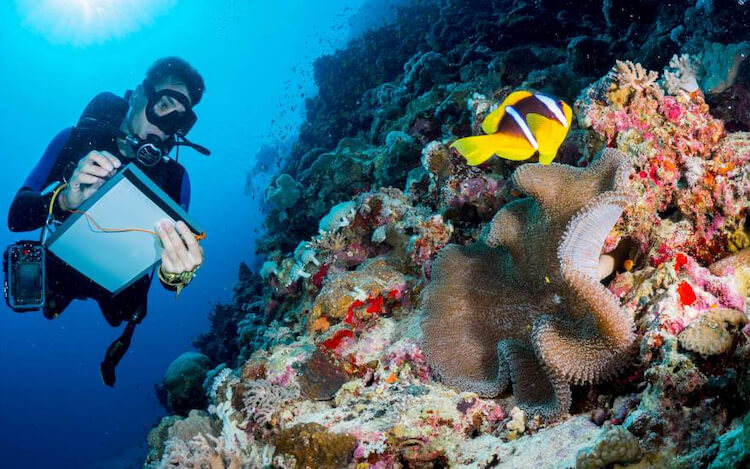 What Does an Oceanography Degree Offer?
Oceanography courses in different universities may vary in syllabus and practical exposure, however, all university degrees are aimed to prepare the students for four core areas of study within the oceans. These four areas of studies are;
Biological
Physical
Chemical
Geological
The oceans cover more than 70% of the Earth's surface and are fundamentally important to the human race for food, energy, and minerals. An Oceanography degree prepares students for diverse practical applications, i.e. predicting storms and tidal waves, studying the processes like beach erosion and how offshore engineering impacts the environmental factors and how to plan and execute sustainable projects.
Studying oceanography as a major in a university develops understanding of a wide range of scientific disciplines, and how they can be utilized to study a complex system.
Skills & Expertise You Develop with a Degree in Oceanography
An Oceanography degree from a reputed university will help you develop knowledge, expertise and skills as follows:
Practical skills for independent research.
Using modern instruments and sampling methods.
Lab analysis to explore the makeup of marine environments.
Essential computing skills for data analysis.
Qualifications in first aid and sea survival techniques.
Detailed knowledge of marine biota and the physics, chemistry and sedimentology that influence them.
Practical experience of doing experiments.
Skills to adapt to sea state and weather conditions.
Knowledge and expertise on how fossils are used to study ecology.
Jobs & Career Options with anOceanography Major
The most common misconception people have about a career in oceanography is that it consists of swimming with marine animals at a marine life park or snorkeling in crystal-clear tropical waters studying coral reefs.
Well, that's not it. Oceanography jobs are very rare with a strictly tough competition. Most oceanographers work with scientific research organizations to solve particular problems in the oceans.
Mostly the research institutions are universities and government agencies that open opportunities for oceanographers. Few private companies also have job openings for oceanographers. These companies are engaged in searching for economic seafloor deposits, investigating areas for sea farming, and evaluating natural energy production from waves, currents, and tides etc.
A degree in Oceanography in hand lets you explore a variety of career choices. A degree program, if it opens doors for jobs of your interest, is the key to a successful career. So if an Oceanography degree is what you want to pursue, you must review the possible occupations you can have with it.
Analyze the listed professions with a degree in Oceanography. Identify your line of work, review employment opportunities and then pursue your Bachelors or Masters degree in Oceanography.
Geological Oceanographer
Physical Oceanographer
Chemical Oceanographer
Biological Oceanographer
Marine and Ocean Engineer
Marine Archaeologist
Marine Policy Expert
Marine Biologist
Marine Mammal Trainer
Whale Biologist Or Researcher
Shark Biologist
You May Also Like