A geology degree can be highly rewarding as it sets you up for highly paid jobs and careers in the energy, environmental, or engineering sectors. You can have access to a larger pool of jobs with Geology degree and Geology careers are generally very well compensated and there are various different career paths and job titles. A bachelor's degree in Geology can land you a good entry-level job, however, there are more and better opportunities with a higher degree.
A lot of geology graduates pursue a career directly related to their degree, however, there are many jobs that are not directly related to a Geology degree, but having a Geology degree is a big plus there.
Popular jobs with Geology degree include exploration and production, water supply, environmental engineering, and geological surveying, environmental planning, geo-conservation, hydrogeology, teaching and communication etc.
Oil, gas and petroleum sectors, the groundwater industry, environmental consultancies, civil engineering and construction companies are the major employers of Geology graduates. Geology salaries depend largely on the region, i.e. the salary of the same geology-related job will be different in different countries, states and even cities.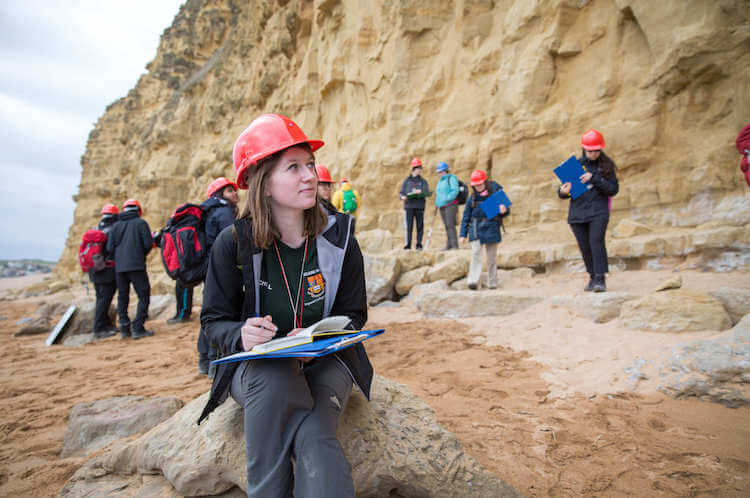 What Does a Geology Degree Offer?
A degree in Geology combines Chemistry, Biology, Physics and Mathematics together and enables you to deal with the Earth's structure, history and processes that act upon it. The subject has a broader scope including Earth, Atmosphere, and Oceans study. With this wider scope, career opportunities are also in abundance.
Being a geologist, you not only help to identify and manage the resources but also contribute to minimizing the impact of economic activities on the environment. As a Geologist you will also be concerned about big issues like climate change, natural hazards such as earthquakes and volcanoes etc. Furthermore, you may also be studying and researching on other planets.
Skills & Expertise You Develop with a Degree in Geology
Geology courses in different universities may follow a different syllabus, methodology and resources to teach the subjects, but all of them will prepare you with the key skills required by the industries that employ geology graduates.
Other than the specific knowledge of geology, the practical field work, and expertise in field and laboratory investigations, a Geology degree will help you develop the following other skills and expertise.
Observation skills
Data collection, analysis and interpretation
Presentation delivery and preparation skills
Data processing skills to handle information in multiple mediums, e.g. textual, numerical, oral, graphical
Written and verbal communication skills
Report writing skills
Problem solving
Analytical thinking
Working with teams
Jobs with Geology Degree & Careers with Geology Major
A Geology major can open doors to a variety of career options; however it is necessary to make sure whether or not those options suit you. Below is the list of careers and jobs with Geology degree. 
Engineering Geologist
Geochemist
Geophysicist
Field Seismologist
Geoscientist
Hydrogeologist
Seismic Interpreter
Mudlogger
Wellsite Geologist
Drilling Engineer
Environmental Consultant
Geophysical Data Processor
Minerals Surveyor
Environmental Geologist
Field Geologist
Geological Educationist
Professor/Teacher
Petroleum Geologist
Mining Geologist
Technical Writer/Interpreter
Environmental Lawyer
Paleontologist
Geophysicists
Structural Geologist
Paleoclimatologists
Paleoceanographers
Oceanographers
The Bottom Line
Selection of the degree program must be done seeing the job of your interest. Jobs and occupations that require Geology education if reviewed before pursuing university education take you on the right career path.
Do select the line of work in coordination with available employment opportunities before pursuing your bachelor's or Masters's Degree in Geology.
You May Also Like