The subject of environmental sciences encompasses a wide range of topics that highlight the issues concerning the environment which includes global warming, pollution, depleting natural resources etc. and suggest remedies to mitigate the negative effects of the same. It involves application of both physical and biological aspects of science to understand and address these concerns.
In the aftermath of the advancement in the information technology as well as the industrial sector, the focus is slowly shifting towards the environmental sector and a lot highest paying jobs fall in this particular sector. Never before has society shown so much attention and concern to the environment like they are doing now.
The field of environmental sciences is gaining huge demand as people, corporations and governments around the world have realized that the continuous exploitation of the natural resources and nature as a whole has caused significant damage and needs to be controlled and corrected in order to give a better lifestyle to our future generations.
The study of environmental science has become popular owing to the concerns mentioned above as well as huge demand for degree holders in this field across various industries. Besides many careers that require a degree specific in Environmental Sciences, there are various generic careers for which you can increase your marketability to employers through this degree.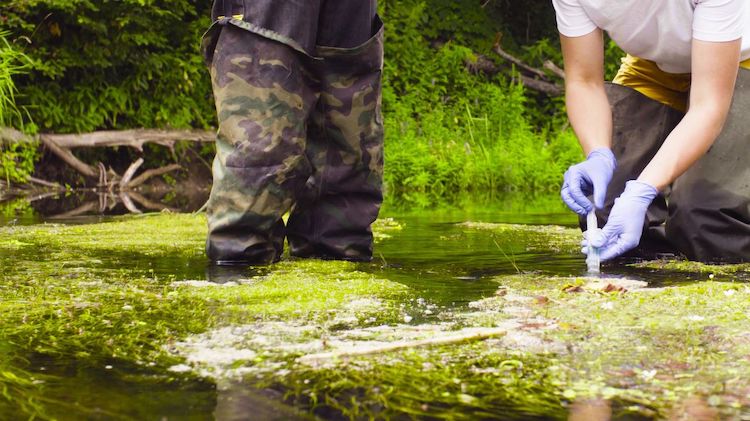 What Does a Degree in Environmental Science Offer
Degree in Environmental Sciences prepares you for a wide range of careers in industry, government, consulting, and education. According to many labor market analysts, the environmental industries will be major job creators in the next decade. Since environmental issues create impact on most of the sectors, i.e. food, housing, manufacturing, pharmaceuticals etc, employers will be more likely to hire someone with educational background in this field.
Environmental science deals with various subjects including physics, soil science, geology, economy, chemistry, biology and more. It studies the impact of humans on the environment. Even though it's a highly theoretical subject, one can see practical applications of this subject in the real world.
A qualified professional of this degree works towards developing the processes and systems that investigate the health of an ecosystem and comes up with various remedies. A student of environmental sciences can also pursue a career in allied fields like disaster management or risk control etc.
The eligible criteria of the courses in the field varies depending upon the expertise or level of the course.
Key Skills You Develop with a Degree in Environmental Sciences
To excel in the field of environmental science you must have a desire or interests in the ecosystem that we live in. A strong inclination towards the subject of science is equally important. As there is a slim chance to single-handedly negate the impact of climate change or identify new natural resources, teamwork becomes equally important in this subject. Thus, one has to work with cross functional teams of scientists, researchers, programmers etc. to work out feasible solutions.
While learning this field., you will also acquire analytical, research and project management skills etc which are also sought after in various other fields like teaching and marketing etc.
What Career Choices Do I Have with a Degree in Environmental Science
A degree in environmental science opens a lot of career choices. The number of degree holders as well as the job opportunities in this field is rising steadily over the last few years. Across the world, there has been huge demand for professionals having environmental science degrees. The increased scrutiny and global laws has made big businesses and organizations spend heavily on hiring environmental science degree holders.
The demand of these professionals is equally important in hazardous material management and disaster management sectors of various industries. There are plenty of job opportunities in this area in various government organizations, research foundations and political groups as well. Various universities and colleges are also offering good remuneration packages to environmental science degree holders to teach at their institutions.
Due to the nature of their work, people who hold environmental science degrees also are well acquainted with various allied subjects including law compliance, public health and welfare etc. This subject has made a great impact on various sectors and industries by providing a different perception altogether.
Wide range of career options are there after completion of an Environmental Sciences degree, but if the career of your interest is not in this range, the degree may not be rewarding. Degree program must be selected based on the job of your interest. If you feel Environmental Sciences education is the right option for you, do make sure that occupation of your interest falls in this category.
Analyze the listed professions that an Environmental Sciences degree offers. Do select the line of work in coordination with available employment opportunities before pursuing your Bachelors or Masters Degree in Environmental Sciences.
List of Jobs with a Degree in Environmental Sciences
Air Quality Engineer
Biostatistician
Botanist
Chemist
Community Relations Manager
Contract Administrator
Ecologist
Environmental Affairs Manager
Environmental Educator
Environmental Engineer
Environmental Impact Analyst
Environmental Lawyer
Environmental Manager
Environmental Protection Specialist
Fund Raiser
Grass Roots Coordinator
Hazardous Materials Specialist
Hydrogeologist
Industrial Hygienist
Lobbyist
Natural Resources Manager
Naturalist
Physician
Planner
Photojournalist
Public Health Educator
Public Health Inspector
Publisher
Research Assistant
Risk Manager
Safety Engineer
Science Librarian
Soil Scientist
Technical Sales Representative
Toxicologist
Water Quality Specialist
Aquarium Director of Education
Desert Ecologist
Environmental Attorney
Environmental Planner
Environmental Organizing Consultant
Forest Ranger
Natural Resource Specialist
Outdoor Adventure Educator
State Park Resource Ecologist
Wildlife Biologist
Field Researcher
Restoration Ecologist
Natural Resource Scientist
Environmental Chemist
Sustainable Farmer
Renewable Power Researcher
Environmental Protection Worker