Astronomy is one of the most exciting fields of Physics to work in but success requires commitment and a true love for the subject. The majority of astronomy graduates work in colleges and universities whereby they teach along with working on a research project of their own interest.
A lot of astronomers work for the government and other government-supported institutions, like NASA, National Optical Astronomy Observatories, National Radio Astronomy Observatories, U.S. Naval Observatory, Space Telescope Science Institute, etc.
Besides the high profile jobs mentioned above; a small percentage of astronomers work in private institutions focusing space-related projects or other areas where an analytical person with great problem-solving skills is needed. Other than these, there are some opportunities in science centers, planetariums, etc.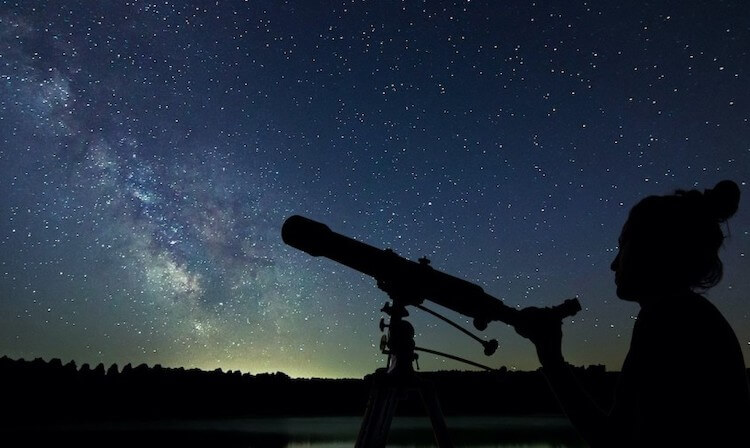 What Does an Astronomy Degree Offer?
Most universities require high grades in either physics or maths (or both) to accept you in their degree program with an Astronomy major, however, some universities may not require higher grades.
Astronomy degrees offered by different universities may have different study programs. For instance, some universities offer a full fledged Astronomy degree, while some may only offer it in combination with astrophysics or physics degrees. However, almost all of them offer a combination of theory and observation, i.e. following previous research about the universe, and spending time observing what's there in the skies.
The initial phase of an Astronomy degree program generally introduces students to the basic and core principles of astronomy, observational astronomy, the solar system, cosmology, geochemistry, and geology.
As your degree program advances you get to learn about astronomy in greater depth using optical and radio telescopes and specific computer programs. You will get to learn geophysics, astrobiology, and petrology in detail. Then you move to the modules that may include numerical and computational methods, thermal and statistical physics. 
The degree programs are typically three to five years depending on the degree program you selected.
Skills, Knowledge & Expertise You Develop with Astronomy Major
Modern astronomy research is heavily computer-based, and so it involves a lot of data analysis and programming skills. A degree with an Astronomy major from a reputed institution will prepare you for the modern-day astronomy field. Following are some key skills, knowledge, and expertise that you will develop with a degree in Astronomy.
Strong physics, mathematics, and statistics skills.
Computer programming skills.
Research skills.
Analytical skills.
Critical thinking.
Problem solving skills.
Excellent verbal and written communication skills.
The ability to make progress without strict deadlines.
Teamwork
Project management skills.
Mentoring skills.
Self motivated.
Ability to work in isolation.
Career Options & Jobs with Astronomy Major
Before going to pursue a degree in Astronomy, you must know that permanent astronomy research jobs are rare and highly competitive. Even the PhDs and postdoctoral candidates generally do not go on to become professional astronomers for their full careers. Do check the below listed career options with a degree in Astronomy, so you can plan your career in the right direction.
Applications Engineer
Chief Systems Engineer
Coating Technician
Director of Business Development
Engineer, Modeling & Simulation
EO/IR Systems Engineer
Imaging Systems Engineer
Laser Engineer
Laser Technician
Manufacturing Manager
Mechanical Design Engineer
Metrology Engineer
Observatory Scientist
Optical Engineer
Optical Fabrication Technician
Opto-Mechanical Engineer
Photonics Applications Specialist
Program Manager
Research Scientist
Sales Manager
Spectral Software Developer
Staff Scientist
Systems Engineer
Technical Sales Manager
Telescope Optics Group Leader
Telescope Structures Group Leader
Acoustics Physicist
Astronomer
Astrophysicist
Atmospheric Physicist
Automotive Designer
Biophysicist
Chemical Physicist
Computational Physicist
Construction Consultant
Cytotechnologist
Hazardous Materials Manager
Health Equipment Designer
Hydrologist
Light and Optics Specialist
Materials Researcher
Materials Tester
Medical Illustrator
Medical Researcher
Meteorological Technician
Metallurgist
Molecular Physicist
Nuclear Medical Technologist
Nuclear Physicist
Optical Technician
Organic Mass Spectrometrist
Paper Product Developer
Pollution Analyst
Professor
Radiation Safety Technician
Radiologist
Researcher
Science Writer
Scientific Editor
Seismologist
Teacher
Technical Sales Representative
Technical Writer
The Bottom Line
The degree program must be selected based on the job of your interest. Reviewing the possible occupations with an Astronomy degree before pursuing the education will be a wise idea. Analyze the above-listed professions with degrees in Astronomy. Be sure about your line of work and availability of employment opportunities prior to joining a Bachelors's or Masters's degree in Astronomy.
You May Also Like