Agricultural equipment operators work with a wide range of farm machinery used for soil preparation, crop planting, harvesting, and crop processing. The average salary of agricultural equipment operators in the US is about $32,000 per year, however, this average may vary from state to state. 
Agricultural equipment operations can be a stressful job as it requires precision in operating the equipment with proper safety measures, coping up with the harshness of the climate, and may have to work long hours. 
Agricultural equipment operators are mainly employed by farming facilities, however, a small number of operators are also hired by fertilizers and pesticide manufacturers, scientific organizations, and government agencies.
According to the U.S. Bureau of Labor Statistics (BLS), jobs for agricultural equipment operators are increasing and in fact, this is among the top 100 fastest growing jobs in the US.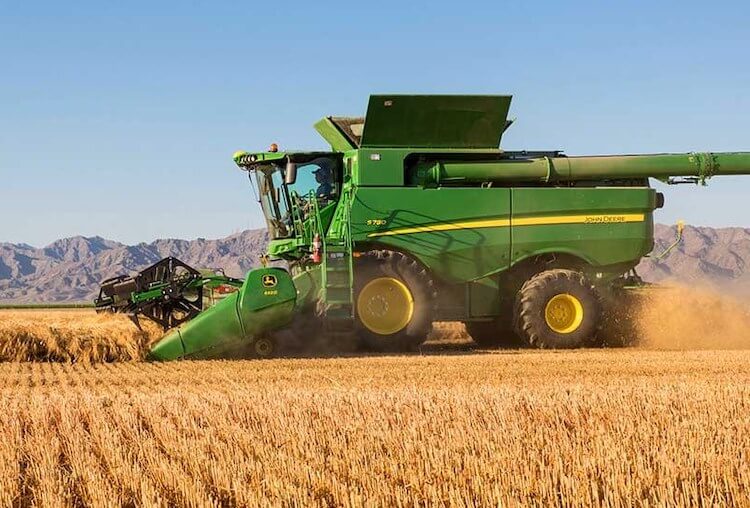 Agricultural Equipment Operator Job Outlook
The job profile and job description of an agricultural equipment operator may vary according to the specific needs of the job, however, these professionals are typically required to perform the following duties.
Operating agricultural equipment for the processes such as tilling, planting seeds, fertilizing plants and harvesting crops. 
Drive or operate machines, i.e. raking equipment, threshers, combines, tractors, loading machines, dryers and balers, etc, with optimum precision.
Maintenance and repair of the machinery they operate. 
Qualifications Required for Agricultural Equipment Operators
Generally, agricultural equipment operator jobs do not require academic education, however, a high school diploma can be greatly beneficial. These professionals do require technical education and training and must have a license to operate heavy equipment. 
Moreover, they must have in-depth knowledge as follows:
Knowledge of how to use equipment for planting, growing, and harvesting food products (both plant and animal) for consumption, including storage/handling techniques.
Complete know how of the chemical composition, structure, and properties of substances and of the chemical processes and transformations that they undergo.
Knowledge of production techniques and disposal methods.
Knowledge of business and management principles involved in the field.
Knowledge of English language, i.e. necessary for understanding the products, methods and research conducted in the English Language.
Key Skills Required for Agricultural Equipment Operators
Other than the basic qualifications, one must have the following skills needed to become a competent agricultural equipment operator.
Equipment Maintenance.
Equipment Installation.
Repairing and maintenance of equipment.
Strong decision making.
Critical thinking.
Abilities Required to Do the Agricultural Equipment Operator Job Effectively
To work as an agriculture equipment operator one requires efficient physical coordination, strong decision-making ability, and mechanical aptitude other than driving skills. Following abilities can be a great plus.
Control Precision.
Multilimb Coordination.
Near Vision.
Be able to handle stressful situations.
The Bottom Line
If this resume is your very first effort or it is a tweak in your resume, you must bring together all skills required to work as Agricultural Equipment Operator, then pick the skills and abilities you are perfect with. Add your expert level skills on your Agricultural Equipment Operator resume alongside the other qualification required for the position and you are done with your professional Agricultural Equipment Operator resume. Using the above information you can create and update your agricultural equipment operator's resume effectively.
You May Also Like