Everyone is not able to afford higher studies but all of us want a job that pays good money. If you believe that you have the ability to earn well without spending at least four years on college education then learning skilled trade jobs in demand can lead you to the right career path.
Skilled trade jobs make up the backbone of our society and are considered to be lucrative and high in demand, and almost every economy has various highest paying jobs without a degree. In the U.S the need for people with trade skills is rising rapidly, and in fact, many of the fastest growing jobs in the US are skilled trade jobs. People had suffered a lot of trade jobs lost due to Covid-19 pandemic in 2020 but thankfully it is expected to grow at a very high pace in 2022 and beyond.
A report by National Science Board predicts that there will be 3.4 million unfilled trade jobs by 2022.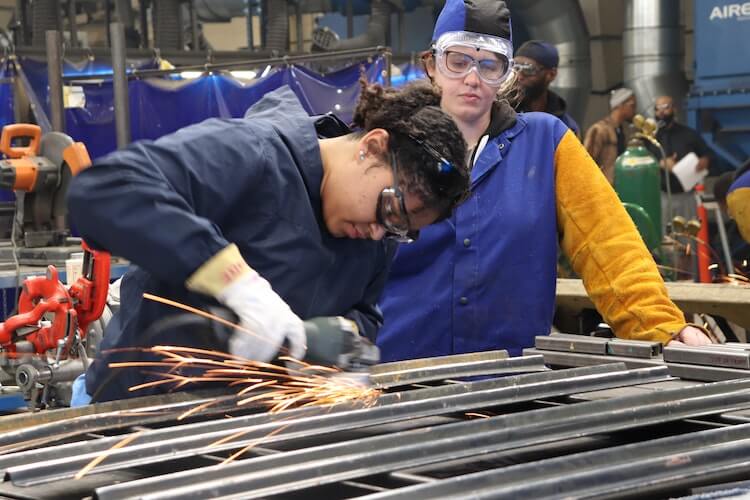 Helpful Ways to get into Skilled Trade Jobs in Demand
There are several ways to get into skilled trade jobs in demand but few of them are
Attend a trade school for 1 to 2 years.
Get hired as a trade worker by enrolling in an internship.
Enroll in a boot camp for one year or less
Do Skilled Trade Jobs in Demand Make Good Money ?
If you are wondering whether a career in trade jobs will give good money or not then the answer is definitely YES. Skilled trade jobs in demand can provide a very nice paycheck once you have progressed into it. The salary comes in near or above $61,937, which is the median household income in the U.S.
This article will discuss the top skilled trade jobs in demand. If you have a technical mindset then continuing in these skilled trade jobs in demand can help you move to the right path in your career.
Top 10 Highest Paying Skilled Trade Jobs in Demand
If you are looking to get into trade jobs so there are tons of high-paying skilled trade jobs in demand. Some of these skilled trade jobs in demand listed below will surely help you.
1- Criminal Investigator (Salary $85,762)
Criminal investigators usually gather facts & pieces of evidence to solve criminal cases. This trade skill is suitable for you if you have a desire to work within criminal justice. Not to mention, you may have to rely upon a computer to track records or to perform casework in the field.
Related Readings
2- Nuclear Technician (Salary $84,482)
As a nuclear technician, you have to ensure that nuclear reactors & other equipment are used efficiently. You may also have to repair and maintain the equipment at the workplace.
3- Power Plant Operator (Salary $84,287)
It is also among one of the top skilled trade jobs in demand. This trade skill needs to maintain and manage electricity generation equipment. With the new power generation technology, you can now easily manage equipment fueled by coal, gas, or solar power.
4- Dental Hygienist (Salary $77,306)
Dental hygienists work like secondary dentists but they don't do tooth extractions and other surgical operations. The U.S Bureau of Labor Statistics predicts 11% annual growth in this field over the next 10 years.
Related Reading
How to Become a Dental Hygienist
5- Electric Lineman (Salary $75,115)
As an electric lineman, you have to ensure that homes, businesses & everything have access to electricity. Your days are usually risky because you will have to maintain and repair high voltage power lines, at times by climbing power poles.
6. MRI Technician (Salary $74,655)
It is a perfect trade job for you if you enjoy working in fast pace environment and have the knowledge to operate a magnetic resource imaging (MRI) scanner to create 3D scans of specific parts of a patient's body.
7- Electronics Technician (Salary $67,439)
Electronics technicians are responsible for installing and repairing electrical power systems. The U.S Bureau of Labor Statistics predicts an 8% job growth for electronic technicians in 2022.
8- Aircraft Mechanic (Salary $66,728)
As an aircraft mechanic, you will need to keep the engine and airframe of the aircraft in excellent condition to meet the standards of the Federal Aviation Administration (FAA).
Related Readings
9- Police Officer (Salary $65,646)
Police officers need to prevent & investigate crimes, enforce laws and respond to emergencies. At times you have to spend your time outside the office patrolling via foot, car, or even horse.
10- Medical Sonography ($62,923)
As a medical sonographer, you will need to get trained in the application of specified equipment that uses high regularity sound waves to generate images of structures within a patient's body.
Related Reading
Summing up the Skilled Trade Jobs in Demand
With growing opportunities in 2022 and beyond, it's the best time to enter trade jobs. These skilled trade jobs in demand are fairly easy to get into. You just have to decide which field interests you, go through a job training program, and get the necessary certificates.
You May Also Like