With the property being such a major investment, there's no way that people will drop a big sum to purchase one without viewing it first. It is important to learn ways to promote an open house.
So that's where the open house comes in: you'll invite potential buyers to check out the property, its rooms, and its surroundings, so they can make an informed decision on whether to buy it.
There's just one issue, though: your open house isn't going to promote itself.
You can give the property a makeover, order fresh flowers, and put on your brightest smile. But if no one knows that you're having an open house, then it might just be you and the crickets in the property on that day. *chirp chirp*
Don't want that to happen? Well, Facebook's a great platform for real estate agents to promote an open house—and here are five ways of doing so:
1- Create a Facebook Events Page for Your Open House
Drum up some publicity for your open house by creating a Facebook Events page for it. As their name suggests, these pages are perfect for promoting events and inviting others to attend them.
On the Facebook Events page for your open house, be sure to state the open house date and time, and where it is taking place. You don't want people to turn up on a wrong day, or at a different location!
After that, post eye-catching real estate flyers to your Facebook Events page. You can also take things one step further by sharing these flyers, so more people will see them and register their interest.
Need inspiration for your Facebook Events page? Then take a look at this one by Rutman Burnside Realty Group, LLC: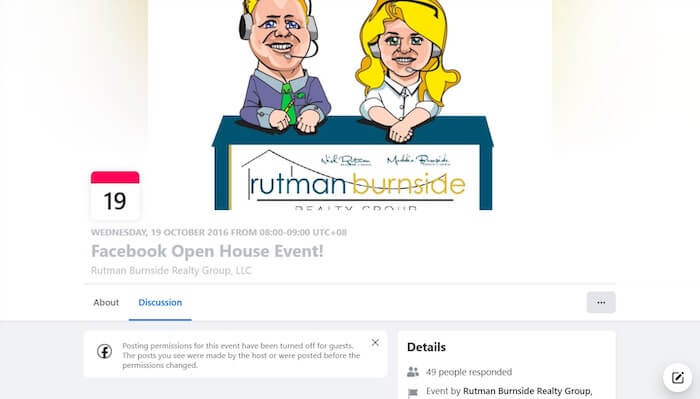 The real estate agents have also put up videos of the interior of the house, which brings us to our next point:
2- Give a Virtual Tour via Facebook Live
Due to the pandemic, you may not want to conduct an in-person open house—and that's perfectly understandable. In this case, why not give a video tour of the property via a Facebook Live livestream instead?
The number of people you can host using Facebook Live will be way more than the number of people you can physically bring around the property. (It'll be less tiring, too.) And as you show the property to more people, you'll have a higher chance of finding a buyer.
To conduct your virtual open house, fire up Facebook Live. After that, walk your viewers through the various rooms in the property, just like how you would in a physical tour.
You can also build some hype for your virtual open house in advance by setting up a Facebook Events page for it—see the previous point!
How long should your Facebook Live session be? The time limit is eight hours, which should be good enough for streaming your open house for a full day.
Otherwise, your virtual tour can be as short as less than three minutes, like this Facebook Live open house by Makayla DeBusk:
3- Post About a Contest or Giveaway
People love winning contests and getting freebies, so use this to draw visitors to your open house. For example, you could offer gift vouchers to all attendees, while a lucky few can walk away with bigger prizes at the end of the day.
But of course, your contests and giveaways will need promoting too—which is where Facebook comes in. Launch your Facebook app, then compose a post publicizing your open house.
Don't forget to emphasize that you'll be having a sweet giveaway, with attractive prizes for open house attendees!
If a special festive event is coming up, you can also leverage that to get people even more excited about coming to your open house (and snagging a prize or two).
For example, here's a Facebook post by Pedroza Real Estate Group, which promoted an open house that happened a day before Halloween:
In the post, the real estate group mentioned that "We'll have Tricks and Treats and Photo Prizes!" Sounds like a lot of spooky fun!
4- Buy Facebook Ads
If you've got the budget for it, consider buying Facebook ads to promote your open house. It could be an effective strategy for reaching out to new audiences who aren't already following you, but who may be keen to drop by nevertheless.
Buying Facebook ads can seem daunting, but it isn't. The procedure is similar to creating a Facebook post, with a few extra steps such as:
Choosing who to show your ad to
Fixing a budget for your ad
Setting the duration of your ad
When your ad goes out, it'll have a "Sponsored" label to indicate to Facebook users that it's an ad instead of a regular post. Here's an example from Dream Weaver Team: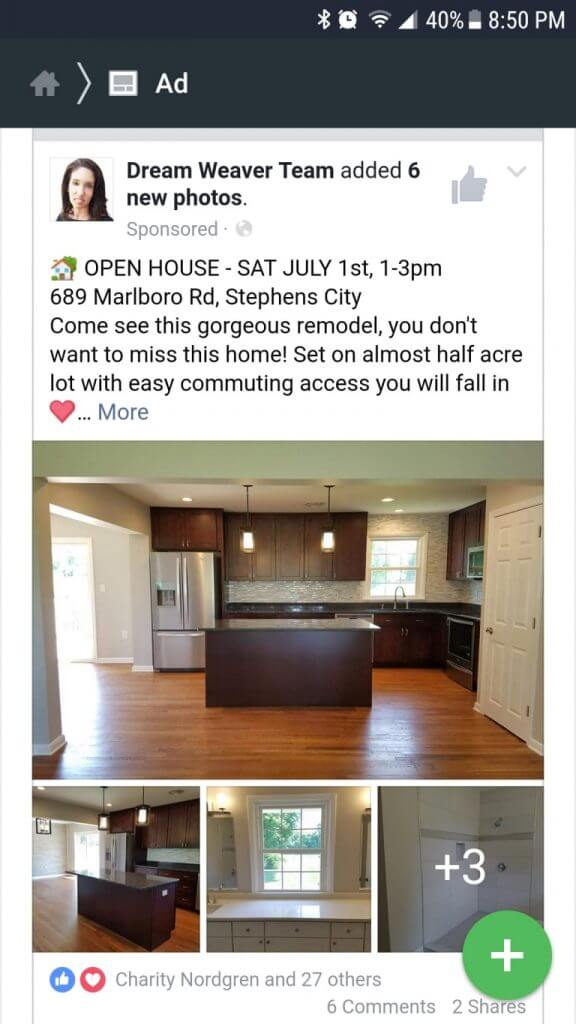 As you run your ad, keep a close eye on how well it's performing, in terms of your number of impressions, conversion rate, and other metrics. Also, experiment with different ad copy and graphics to lower your acquisition costs.
5- Promote Your Open House on Facebook Marketplace
Last but not least, hit up the Facebook Marketplace. This is a platform for Facebook users to sell almost anything under the sun—including property!
Your Facebook Marketplace listing can also double as an open house listing, where users who take a shine to the property can contact you for a tour.
Just make sure to prominently mention in the listing that you are having an open house for the property, like what real estate agent Marissa Cardenas has done: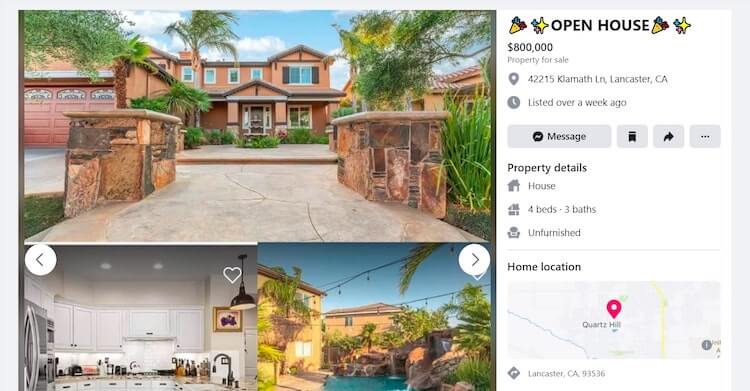 Needless to say, your Facebook Marketplace listing should contain gorgeous photos of the property from all angles too, and cover key details such as:
Its general location
Its number of rooms and baths
Nearby schools and other places of interest
And of course, don't forget the all-important price tag. If the price is negotiable, disclose this in your listing to generate more interest.
Start promoting your open house on Facebook
As you can see, you have no shortage of options for promoting your open house on Facebook—be it creating a Facebook Events page or Marketplace listing, posting about a giveaway, or boosting your posts via Facebook's advertising feature.
Alternatively, if you'd "like" to hold your open house virtually (pun intended), then Facebook Live is your best friend.
Pick your favorite strategy, or a combination of them, then go promote your open house on Facebook like there's no tomorrow. Wishing you lots of success for your next open house!
You May Also Like