Once airline pilots, TV announcers, architects, carpenters, and construction workers were believed to be the odd jobs for women and they were restricted to certain trades only. However, with the progress in economies and social norms, things have been changing constantly.
The above are no more nontraditional jobs for females in developed countries. Today, employers are making a more concerted effort to hire equal numbers of women and men, the pay gap is also shrinking in the developed countries and many industries that have been dominated by men in the past have a significant female workforce now.
Today women take non traditional jobs as a challenge, face it and we have witnessed many of them outdoing it. In fact, nowadays if you're looking for a job that may look kind of non traditional, it can give you a competitive edge in the job market.
This article will discuss some jobs and trades which are considered to be non-traditional for females. Whether you're looking to switch careers or just looking to explore some more exciting and fastest growing job opportunities outside your current field, you will find this list interesting.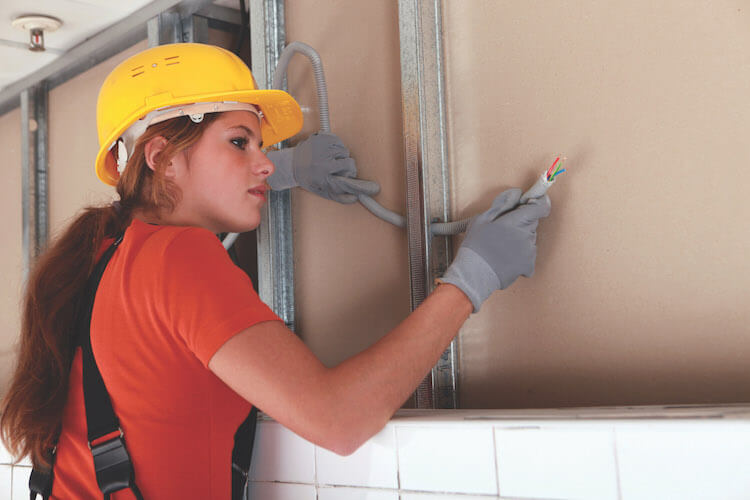 Non Traditional Jobs for Women Where They Are Breaking the Barriers
Here is the list of top nontraditional jobs for females whereby their presence is very less, but still they are outperforming in a male dominant industry.
1- Electrician
Though most women will prefer calling an electrician for small household jobs because they do not want to mess with electricity-related stuff, there are women who love everything about it.
An increased number of female students in electrical engineering courses are evident of this fact.
Electricians, in particular, are responsible for installing, maintaining, and repairing power and lighting systems. Female electricians are around only 5% of the total electricians, however, there is a growing demand for female electricians, especially at homes and commercial settings managed by women, who feel more comfortable with a woman working for them.
Related Reading
Jobs with a Degree in Electronic Engineering
2- Automotive Mechanic
The automotive mechanic's industry is dominated by men almost anywhere in the world, however, women automotive mechanics are emerging as trendsetters in developed countries. One of the driving forces for women automotive technicians is the increasing number of female drivers.
Auto technicians are responsible for conducting preventive maintenance, as well as repairing and replacing parts damaged from accidents or just regular wear and tear.
3- Welder
This is another tough job that requires both mental and physical strength. Welders are responsible for putting metal structures together through welds, and maintenance and repair work for metal equipment.
It is interesting to know that female welders have been in the trade since World War II, however, they are still only about 5% of the total welders.
4- Heavy Equipment Operator
We rarely see women operating heavy equipment and machines like bulldozers and backhoes on construction or disaster sites, however, the number of women heavy equipment operators is increasing.
This is mainly because women are proving to be an equal alternative if not better, and construction companies are increasingly becoming equal opportunity employers.
Related Reading
4 Things Nobody Tells You About a Career in Trucking
5- Firefighter
Firefighting is one of the riskiest jobs, however, more women are joining the field, either to volunteer for a cause or choose it as a profession. It can be a very stressful job too, but since women can better manage stress, they can do the job at their best.
The job involves responding and helping deal with various scenarios, including fires, car accidents, and other emergency situations. The entry requirements for male and female firefighters are the same, but as a female firefighter, you may need to exercise more to build strength.
Non Traditional Jobs for Women in Developing Countries
The job market in developing countries is way too different from the job market in developed countries. In many countries, women are generally forced to opt for traditional careers like teaching and healthcare professionals. Despite there being a large number who want to do something different, many have to kill their dreams.
However, economies are screwing and traditional career opportunities are limited, many women end up sitting at home doing nothing. But for all the enthusiastic women, many career opportunities are there, it just needs little effort to explore.
Let's see what non-traditional yet respectable professions are for females in developing countries.
1- Architects
With an increasing population, there's a need for new buildings and so the architects. Women, as they have a great aesthetic sense and no doubt our women are among the most intelligent population of the world, can excel in architecture!
2- Chefs
Not particularly in hotels and restaurants, but you can run it as a business. Many women in big cities are using online mediums, i.e. Facebook, etc to take orders and cook, bake and deliver!
3- Office Administrators
Women office administrators are trending in developing countries. Maybe because of the reason that they manage stuff very well, they're being given priority!
4- Finance Officers
Since they know well how to manage houses on a budget, they can run companies most efficiently!
5- Software Engineers
Women have strong analytical skills to prove themselves as good software developers. Although the number of women software engineers at a higher career level is comparatively lower, the trends are changing!
Related Reading
What Does a Software Developer Do?
6- Computer Systems Administrator
It seems tough and hectic, but there's a female population who loves to deal with machines and cables. Since it's one of the main non-traditional fields, the number of women here is quite low!
7- Airline Pilots
With a chunk of female pilots, the field will take time to grow for women, but those who love to fly high must get into it!
8- Painters
Again a field with a very limited female population, there are more chances for women to come ahead and prove themselves. Many are using Social Media to promote their work and becoming influencers in their niche.
9- Army Officers
Many developing countries do have female officers in the Army, however, most do not serve in the field, but departments like medical and education have already opened broader doors for them.
Related Reading
Joining the Military: A Guide on Picking a Branch
10- Air Force Officers
Like the army, the same is the case in the Air Force, but these careers are highly rewarding and have great potential to grow as compared to traditional teaching and medical jobs. Many developing countries now have female fighter aircraft pilots in service.
The Bottom Line
So, what's the nontraditional job you want to pursue? Do check the job descriptions well and look for the one that better matches your interest and potential!
You May Also Like