Not only has COVID-19 impacted the job market for professionals looking to switch jobs, but it has also changed the scope of career and job prospects for many fresh graduates. The hiring freezes, canceled internships, and an uncertainty has struck almost all the industries around the world.
However, there are some sectors that have been actively hiring during the pandemic and will continue in the post covid times. This article will list the top 13 jobs and careers that are in high demand during the pandemic and will likely to sustain in the post Covid times.
Here goes the list:
1- Registered Nurses
The increasing virus variants and the continuous spread is constantly putting pressure on the basic healthcare system almost everywhere. This is why the hospitals need more RNs to join the force.
Registered nurses are required not just in hospitals, but all big companies, educational institutions and workplaces are considering having corporate nurses onboard to minimize the risk of spread at the workplace.
RNs at the workplace can assess employees health problems and needs, develop and implement nursing care plans, and maintain medical records to better handle critical situations.
2- Mobile Health and Personal Care Professionals
These kinds of professionals are in demand in both urban and rural areas. These professionals are to provide routine individualized healthcare to the senior citizens, convalescents, or persons with disabilities at the patient's home or in a care facility.
In some cases, these professionals should have a medical background to monitor and record changes in health status, however, it's not always mandatory. Most of the time, personal care services are much needed, i.e. bathing, dressing, and grooming of patients, assisting the elderly, or people with disabilities with daily living activities at the person's home or in a healthcare facility.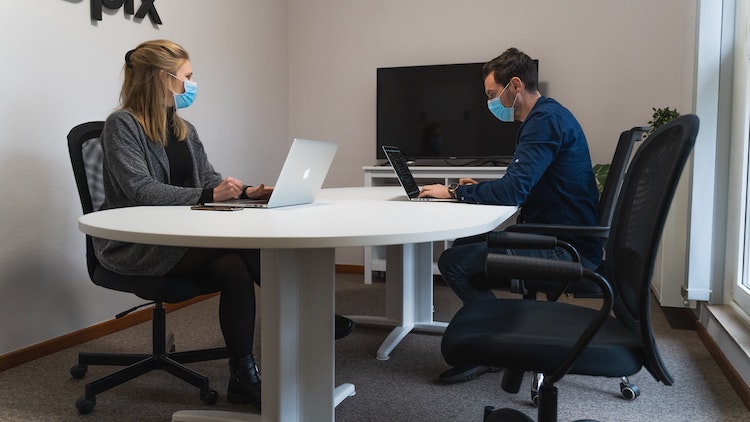 3- Order Fillers/Inventory Managers
With almost all big retail outlets increasingly investing in online ordering systems, they do need people to manage the orders and inventory. These roles can be of different types, i.e. receiving and managing inventory, overall management of the warehouse, fulfilling online orders, filling shelves & racks etc.
4- Delivery Guys
From fashion retail outlets, to grocery stores & restaurants, and from pharmacies to home furnishing businesses, everyone is focusing on online ordering as the future of sales. And to attain customer satisfaction they need efficient delivery teams. Depending on the type of business they may need bike riders or drivers with LMV or HMV licenses.
Riders are not necessarily required to load and unload heavy items, however, in case of delivery jobs at a furniture store or electronics shop, you may require some additional skills, i.e. lifting, assembling furniture etc.
5- Commercial Drivers
Reopening businesses in an attempt to normalization is bringing a lot of challenges, i.e. public transport can be a big risk for many workplaces, so a lot of companies are considering offering pick & drop to the employees to avoid unnecessary contact. This is creating more opportunities for drivers.
6- Customer Service Representatives
With further steps towards digitization, people need more human touch when it comes to seek help regarding product, order, delivery, refunds etc. So companies need more customer services representatives to interact with customers to provide information in response to inquiries about products and services and to handle and resolve complaints.
7- Janitors and Cleaners
Everyone wants to reopen the business, but no one wants to reopen at the cost of shutting down, so they need more staff than before to keep buildings clean and sanitized. The job of janitors may include performing heavy cleaning duties, such as cleaning floors, sanitizing the sitting area regularly, shampooing rugs, washing walls and glass, and removing rubbish on time etc.
8- Web & Software Developers/Quality Assurance Analysts
Digitization is the future and almost every business is aware of the fact by now. This is why more and more businesses are looking to have at least a working website up and live. More software companies are hiring developers, designers and quality assurance analysts as well as marketers.
Even if you are not associated with a company, you can still reap the benefits of growing demand being a freelancer.
9- Pharmacists & Pharmacy Technicians
With more people visiting clinics and hospitals means more prescriptions to be served than ever before and so pharmacies need more pharmacists to share the load. Moreover, with the vaccines coming out and people looking to get vaccinated, more pharmacy technicians are required to administer and manage the doses.
10- Handyman Services
Fortunately or unfortunately, Covid-19 couldn't really affect the way households and commercial setups need repair and fixing works. Mechanical equipment and structures need regular care and repair, households constantly need pipe fittings, welding, carpentry, repairing electrical or mechanical equipment etc, so the jobs are always there.
11- Virtual Assistants
With more businesses considering work from home where it makes sense, they are outsourcing most of the work of secretaries and administrative assistants to virtual assistants.
VAs are responsible to perform routine clerical and administrative functions such as drafting correspondence, scheduling appointments, organizing and maintaining files and records.
Virtual assistants are more in demand because they are equally effective as of a full time employee and cost way too less.
12- Teachers & Teaching Assistants
Homeschooling is probably not an option for a lot of people. And even kids who are in distant learning for a while find it quite overwhelming, so there's a huge demand for tutors and teaching assistants both by schools and individuals to help the kids at home, especially the kids with learning differences and additional needs.
13- Financial Managers
Financial managers are needed both by businesses and rich individuals to plan, direct, and coordinate for investment analysis and recommendations, banking, insurance, securities, and other financial activities.
14- Accountants and Auditors
Almost every business needs either a full time or a part time accountant to examine, analyze, and interpret accounting records to prepare financial statements, etc. In the case of big businesses, auditors and accountants are also expected to give advice for crucial financial decisions.
Since, a lot of businesses are getting back on track, so they definitely need right accountants and auditors for important financial moves.
The Bottom Line:
Well, there may be many more jobs that didn't really get hit harder by the pandemic and have active job openings in the field too, however, the above 14 represent most of the economies.