Getting nervous is very common when it comes to appearing in an interview. Not only do fresh grads have confusion, but many of the experienced individuals also find it difficult, and often commit some common job interview mistakes.
Well, there're many things we feel we did right in the interview, but in actual we missed something or never know what the interviewer disliked. Besides verbal communication, there're various other factors that interviewers are judging, i.e. the way you are sitting, the way you speak, your dress codes, and above all your body language.
The infographic below discusses almost all common job interview mistakes, how often individuals commit these mistakes, what the employers expect, and how do they evaluate candidates. Based on these common job interview mistakes, we will further discuss the ways, tips, and ideas to avoid and correct these mistakes.
Common Job Interview Mistakes at a Glance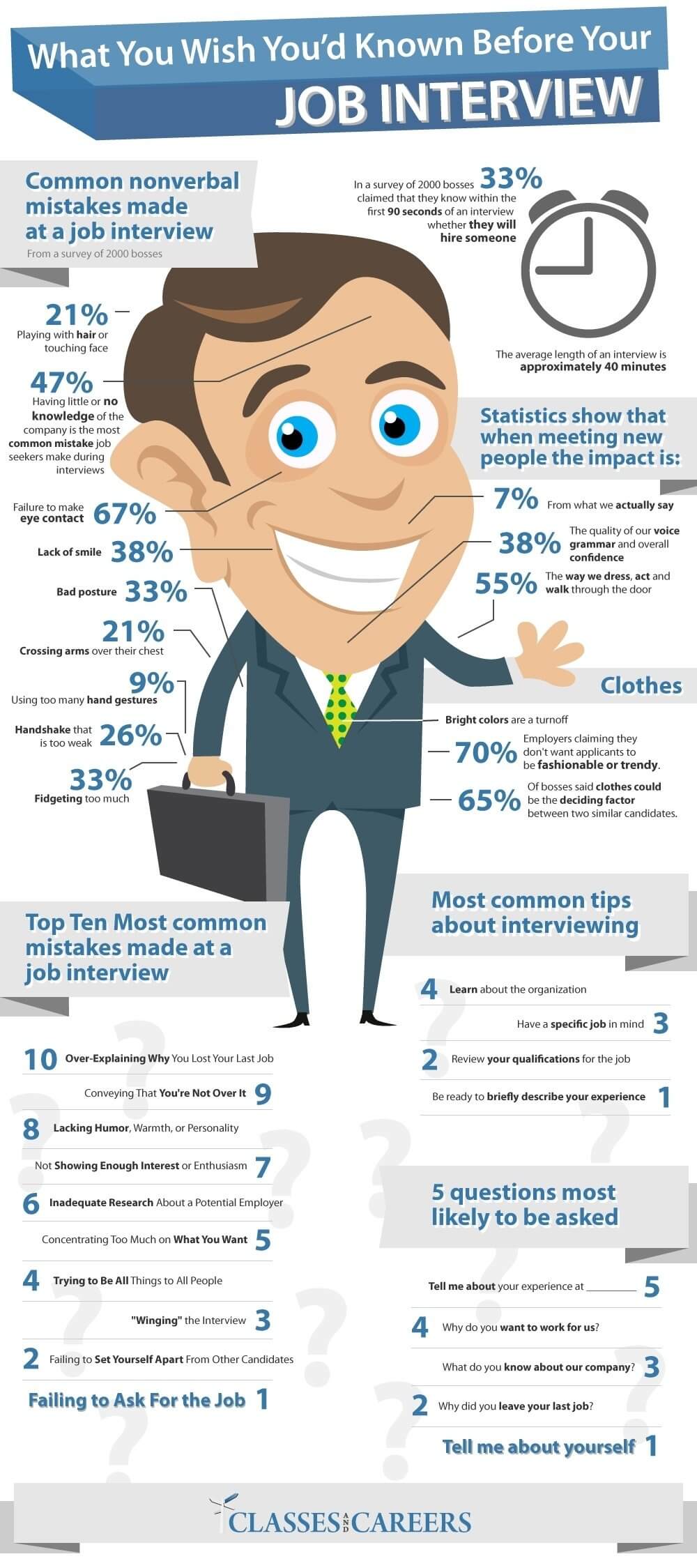 1- The Improper Body Language
According to the stats in this infographic improper body language tops the common job interview mistakes, i.e. a handshake that is too weak, bad posture, lack of smile, failure to make eye contact, fidgeting too much, playing with hairs, etc.
It is understandable that for some individuals fidgeting is the body's response to regulate emotions according to the situation, and it's OK, But, too much anxiety followed by negative body language makes it hard for the hiring team to evaluate the candidate fully.
2- Not Researching the Company
Knowing the employer before appearing in a job interview is crucial for various reasons, i.e. you can better negotiate salary and benefits once you know enough about the company. But most importantly, employers evaluate candidates on the basis of seriousness, i.e. if a candidate is serious about the company, he/she will at least do some initial research about the company so he can share ideas about how his contribution will be beneficial to the company.
Not knowing about the employer indicates that you are not serious about this job, and raises a red flag right there.
3- Fancy or Causal Appearance
A lot of candidates do not consider dressing and appearance as important, especially because of the increasing startup culture and the rise of work from home opportunities, however, whenever you are meeting someone for a job interview, you must be presentable.
Overdoing it can also have a negative effect, i.e. employers expect you to be dressed professionally.
4- Concentrating too Much on Yourself
Over explaining all about why you lost your last job, focusing a lot on what you want instead of what the job demands, and trying to be the jack of all are major turn-offs for the employers and hiring teams.
The job interview is meant to find out how well you can do the job, and employers expect you to talk specifically about how you can contribute to the growth of the company.
5- Failing to Set Yourself Apart from Other Candidates
Everyone has a unique advantage over others and failing to show that is another among the common job interview mistakes. If you are also selling the same combination of soft skills and hard skills that everyone else is offering, why the company would want to hire you for $50,000 when they can have this for $30,0000.
How to Avoid & Correct These Common Job Interview Mistakes
It is easy to avoid these common job interview mistakes, and correct them for future job interviews. Keep the following points in mind.
Prepare well before appearing in the job interview. Do check this big list of common job interview questions for your reference, and better is to rehearse at least once before appearing in the job interview.
Know the employer before appearing in interview and it won't take much time, i.e. explore their website and social media pages, check what products and services they are offering, who might be their competitors, what customers are saying about them etc.
Research well about the job posting, and make sure you will be able to answer the questions related to the job profile. This will also help you find out your unique strengths that can contribute to the growth of the organization and sets you apart from other candidates.
Select appropriate attire for the job interview and make sure it is neat and clean. Here is a quick guide on what to wear, bring and say to get the position you applied for.
There are some subjective questions that can be tricky to answer. Follow these quick guides to prepare for these tricky questions, such as, why do you want this job, why should I hire you, what are your weaknesses, and tell me about yourself.
Wrapping up the Common Job Interview Mistakes & How to Fix Them
Thanks to this wonderful infographic that explained the biggest and most common job interview mistakes in such an interactive way. I am sure with the above tips you know how to ace an interview and you are all set to do great in the next one.
You May Also Like