If you're looking at electrician careers, you may be thinking about how you can get a job in the industry. As an electrician apprentice, you can learn the business from the ground up. An apprentice earns money even while they are in school.
What Is an Electrician Apprentice?
An electrician apprentice is someone who is interested in a job in the electrical industry. They may have some of the basic skills or knowledge about simple electrical jobs, but often they are hired with no experience at all. They work with a professional in the industry while taking classes to become an electrician.
An electrician may hire an apprentice to help them with many of their jobs. In return, the apprentice learns skills and develops experience they can use to become certified. Once they complete their training, they will be able to take the certification test and embark on their own career.
How to Get Your Start in Electrician Careers as an Apprentice
Your first step is to apply and be accepted into a trade school or training program. All electrician programs require an apprenticeship so that you can learn from the masters. It can take several years to complete the training. While learning the trade, you can be an apprentice and earn a wage.
Apprentices generally attend school for a couple of evenings each week while working with an electrician during the day. You can earn college credit while working as an apprentice based on the program you apply for.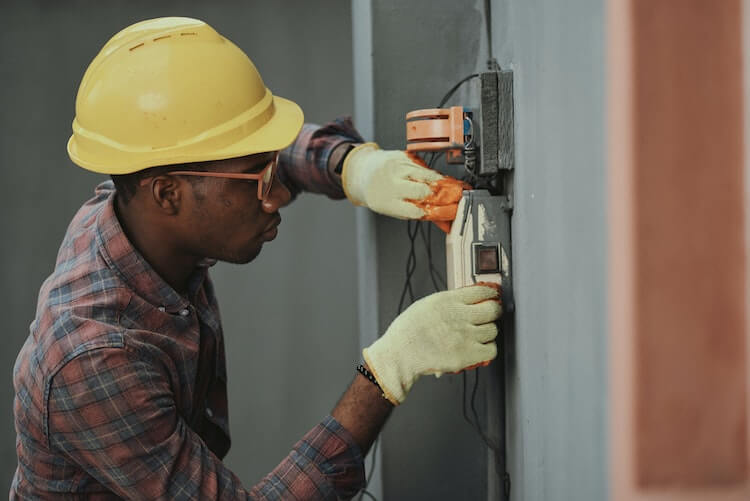 What Does an Electrician Apprentice Do?
As an apprentice, you'll learn about a range of electrical systems and the different ways they can malfunction. Your main responsibility is to help the master electrician, also known as a journeyman, with their jobs.
You may work in residential homes or in commercial or industrial settings. As an apprentice, you'll help with the installation of new electrical systems, maintenance of existing systems, and repair of systems that are malfunctioning.
Some of the tasks and information you'll be involved with may include the following:
Learn how to read blueprints and electrical diagrams
Research materials for pricing and quality
Install wiring systems
Configure safety systems, such as security alarms or fire alarms
Install conduits between electrical devices
Replace broken or worn components, such as switches
Diagnose causes of electrical issues
Dig for installing systems underground
Repair electrical infrastructures
Apprentices must develop several skills to work in this industry. For instance, they will need to learn how to troubleshoot a problem to figure out the correct repair. Analytical and critical thinking skills are necessary to be good at troubleshooting.
An electrician apprentice must be good at math or brush up on their math skills. You will need high school math skills for measurements and distances.
Communication is also critical, and you must learn how to explain complex electrical issues in layman's terms to customers. You will engage with other electricians and various contractors as you work on the same projects.
Requirements to Be an Electrician Apprentice
If becoming an electrician is your dream, you'll want to start as an apprentice with a quality program. To be considered, you will need to meet the age requirements, which is generally 18 years of age.
You'll need a high school diploma or GED and a driver's license. You must pass an interview with the program. Each program will have its own criteria as well.
Anyone looking to become an electrician should work to become an apprentice. Electrician careers mean you can earn while you learn to be a journeyman in a career that is in great demand and highly satisfying.
You May Also Like