Bolton, a large town in Greater Manchester in North West England is an active job market with opportunities in wholesale and retail trade, repair of motor vehicles, manufacturing, health, and social work, transport, storage and communication industries, and service-based activities including data processing, call centres, hi-tech electronics, and IT companies. Recruitment agencies in Bolton play a key role in connecting active job seekers with the best opportunities in the town.
Bolton is also well known for retaining some traditional industries employing people in paper manufacturing, packaging, textiles, transportation, steel foundries and building materials.
If you are based in Bolton or plan to relocate here or nearby, the traditional local job search alone might not work well. Having your updated resume with multiple employment firms and recruitment agencies in Bolton and job placement services in the town significantly increase your chances of landing a good job.
Whether you are a fresh grad looking to start a new career or an established professional looking to switch jobs, these recruitment agencies and employment services providers will be equally helpful in finding the right job.
Since these agencies and service providers work closely with major employers in the town as well as in other cities, chances of finding a better job are much higher when working with them.
Check out this big list of employment agencies, job placement services, and staffing solutions providers in Bolton, England and speed up your job search.
If you are a startup owner or a business manager, this list of recruitment agencies is equally effective to find the right talent and build a high performing team.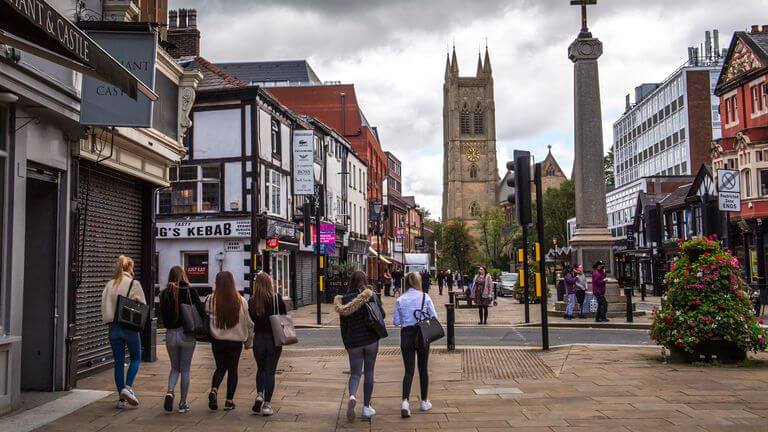 List of Recruitment Agencies in Bolton, England
Forrest Recruitment Ltd
Address: 25 Bradshawgate, Bolton, BL1 1EL
Phone #: 01204 361155 ‎ · Website: · forrest-recruitment.co.uk
Staff UK Bolton
Address: Mawdsley Terrace, 17 Mawdsley St, Bolton, BL1 1JZ
Phone #: 01204 399700 ‎ · Website: · staffukbolton.co.uk
Goodpeople Services Limited
Address: Bolton Business Centre, 44-46 Lower Bridgeman St, Bolton, Lancashire BL2 1DG
Phone #: 01204 373698 ‎ · Website: · goodpeopleservices.com
Euroforce People Solutions Ltd
Address: International House, 5-11 Crown St, BoltonBL1 2RU
Phone #: 01204 393000 ‎ · Website: · euroforceltd.com
Landers Recruitment Ltd
Address: 522 Blackburn Rd, BoltonBL1 8NW
Phone #: 01204 309555 ‎ · Website: · landers-recruit.co.uk
Bromak Training
Address: Atria, Spa Rd, Bolton, Lancashire BL1 4AG
Phone #: 01204 532500 ‎ · Website: · bromak.co.uk
McQueen Harvey Ltd
Address: Bradshaw Brow, Bolton, Lancashire BL2 3DD
Phone #: 01204 300612 ‎ · Website: · harveymcqueen.com
Jobwise Ltd
Address: 18-20 Bridge St, BoltonBL1 2EA
Phone #: 01204 533311 ‎ · Website: · jobwise.co.uk
Adecco
Address: 22 Churchgate, Bolton, Lancashire BL1 1HL
Phone #: 01204 557350 ‎ · Website: · adecco.co.uk
Hays Ltd
Address: Deansgate, Bolton, Lancashire BL1 1HQ
Phone #: 01204 527773 ‎ · Website: · hays.co.uk
Jobcentre Plus
Address: 52 Black Horse St, BoltonBL1 1SX
Phone #: 0845 604 3719 ‎ · Website: · los.direct.gov.uk
The People Pod
Address: The Courtyard, Calvin St, BoltonBL1 8PB
Phone #: 0871 789 4111 ‎ · Website: · thepeoplepod.co.uk
AFR Consulting – Lancashire head office
Address: 11 Chorley New Rd, Horwich, Bolton, Lancashire BL6 5UE
Phone #: 01204 69497 ‎ · Website: · afrconsulting.co.uk
Housing Market Recruitment
Address: Bolton Enterprise Centre, Washington St, BoltonBL3 5EY
Phone #: 01204 557620 ‎ · Website: · hmrstaff.co.uk
Reach Recruitment Services
Address: The Courtyard, Calvin St, BoltonBL1 8PB
Phone #: 01204 559000 ‎
G3MB Recruitment
Address: Hamill House, Back Chorley New Rd N, Bolton BL1 4DH
Phone #: 0844 998 3411 ‎
The Best Connection – Bolton
Address: Bradshawgate, Bolton, Lancashire BL1 1EL
Phone #: 01204 394400 ‎ · Website: · thebestconnection.co.uk
Premier Education
Address: 112-116 Chorley New Rd, Bolton BL1 4DA
Phone #: 01204 498942 ‎ · Website: · premier-education.co.uk
Deployment Recruitment
Address: 200 Tonge Moor Rd, Bolton, Greater Manchester BL2 2HN
Phone #: 01204 394395 ‎ · Website: · deployment.com
Site People (UK) Ltd
Address: Wellington House/Wellington St, Bury BL8 2BD
Phone #: 0161 765 3881 ‎ · Website: · sitepeopleuk.com
Recruitment Zone Ltd
Address: Paragon House Paragon Business, Chorley New Rd, Horwich, Bolton BL6 6HG
Phone #: 01204 699048 ‎
The Exec Pod
Address: 98 Waters Meeting Rd, Bolton, Greater Manchester BL1 8SW
Phone #: 0871 789 4111 ‎ · Website: · theexecpod.com
Cast a Way UK
Address: Manchester Rd, BoltonBL5 1AU
Phone #: 01204 655504 ‎
Colombus
Address: 1 Sandfield Dr, Lostock, Bolton BL6 4DU
Phone #: 01204 494433 ‎
Driver Hire
Address: 331-333 Manchester Rd, Westhoughton, Bolton BL5 3JY
Phone #: 01942 842338 ‎ · Website: · driverhire.co.uk
A B A Insurance Services Ltd
Address: Bridgeman Ho/Salop St, BoltonBL2 1DZ
Phone #: 01204 364842 ‎ · Website: · abagroup.co.uk
CGV Engineering Services Ltd
Address: 13 France St, Bolton, Gtr Manchester BL5 2HG
Phone #: 07823 322681 ‎ · Website: · cgvjobs.co.uk
Deployment Ltd
Address: Evans Business Centre, Manchester Rd, BoltonBL3 2NZ
Phone #: 01204 547055 ‎
RZ Group
Address: ParagonBusinessPark, Chorley New Rd, Horwich, Bolton, Greater Manchester BL6 6HG
Phone #: 01204 699008 ‎ · Website: · rzgroup.co.uk
Linda Taylors
Address: Bark St E, Bolton, Lancashire BL1 2BQ
Phone #: 01204 395566 ‎ · Website: · lindataylors.co.uk
Pinnacle Group
Address: Swan Centre, 4 Higher Lane, Bolton, Lancashire BL3 3AQ
Phone #: 07961 350111 ‎ · Website: · pinnaclegroup-international.co.uk
First Call
Address: 2 Winterburn Ave, BoltonBL2 3FY
Phone #: 01204 597575 ‎
MTR
Address: Manchester Rd, Bolton, BL3 2NZ
Phone #: 01204 541930 ‎
www.northwestjobs4u.com
Address: 38 Fifth Ave, Bolton, Lancashire BL1 4LY
Phone #: 01204 842530 ‎ · Website: · northwestjobs4u.com
AP3 Enterprises
Address: 145 Darwen Rd, Bromley Cross, Bolton BL7 9BG
Phone #: 01204 300059 ‎ · Website: · ap3enterprises.co.uk
GST Recruitment
Address: 54 Queen St, Farnworth, Bolton, Greater Manchester BL4 7DX
Phone #: 01204 705064 ‎ · Website: · gstrecruitment.co.uk
Keymen Associates Limited
Address: 11 Chorley New Road, Bolton, Lancashire BL1 4QR
Phone #: 01204 399195 ‎ · Website: · keymengroup.com
Your Personnel Department
Address: 11 Springburn Close, Horwich, Bolton, Lancashire BL6 6SR
Phone #: 056 0224 4628 ‎ · Website: · yourpersonneldept.com
Workforce Solutions
Address: 147 Chorley Rd, Westhoughton, Bolton BL5 3PJ
Phone #: 01942 859348 ‎
Newton Employment Ltd
Address: 15 Bark St E, Bolton, Lancashire BL1 2BQ
Phone #: 01204 548797 ‎
The Parr Group
Address: 507-509 Tonge Moor Rd, Bolton, Lancashire BL2 3BG
Phone #: 0845 303 9630 ‎
Armed Forces Career Offices
Address: Great Moor St, Bolton, Lancashire BL1 1NP
Phone #: 01204 364111 ‎
Equinox Financial Search & Selection
Address: Unity House, Clive Street, Bolton, Lancashire BL1 1ET
Phone #: 0870 919 2457 ‎
RG Consultancy
Address: Bolton Business Centre/44-46 Lower Bridgeman St, Bolton BL2 1DG
Phone #: 01204 385113 ‎
Recruitment Personnal Solutions Ltd
Address: 44-46 Lower Bridgeman Street, Chorley New Road, Bolton, Lancashire BL2 1DG
Phone #: 0870 240 1896 ‎
Resource 1 Recruitment
Address: Darwen Rd, Bromley Cross, Bolton, Lancashire BL7 9DX
Phone #: 01204 305535 ‎
Clever Recruit
Address: 10A/Eagley House/Deakins Business Park/Blackburn Rd, Bolton BL7 9RP
Phone #: 0844 815 7137 ‎
Meridian
Address: 5 Longworth Rd, Horwich, Bolton, Greater Manchester BL6 7BL
Phone #: 01204 469284 ‎
Personnel Solutions
Address: 25 Greenside Dr, Bolton, Lancashire BL2 5SF
Phone #: 01204 888897 ‎
You May Also Like