Leeds is among the most famous cities in the UK and is well known for its historical importance and vibrant economy. But, that's not just all; Leeds is also prominent in music, sports, arts, and politics.
Leeds is definitely a good place to live and the best part is that you can find everything in the city centre. The city is home to five universities is also an active hub of students; not just the local, but from other cities as well as from other parts of the world.
Leeds is also among the richest cities in the UK and the wealthiest in the north of England. Let it be the delicious food from around the world, shops of all kinds, eclectic nightlife or bountiful outdoor spaces, the city has it all.
Leeds has the most diverse economy in the UK. Public administration, education, healthcare, banking, finance & insurance, distribution, hotels & restaurants are the sectors with the most jobs, and the city also has the fastest rate of private-sector jobs growth in the UK.
With a lot of job opportunities in finance, retail, leisure, visitor economy, construction, manufacturing and the creative and digital industries like digital marketing, software development etc. Leeds is a popular choice for freshers to start a career or for professionals looking to switch jobs.
Whether you are based in Leeds and looking for local jobs or plan to relocate to another city and looking to find and get a job in a new city before moving there, traditional job search alone will not be highly result oriented. Besides exploring the local sections of the best international job sites, you must also explore opportunities on LinkedIn and get connected to some of the best recruitment agencies in Leeds.
Chances of landing a better job through a recruitment agency are far better than a solo job search. These employment agencies and staffing solutions providers have access to a larger pool of jobs, so your resume gets more exposure. Moreover, there are many jobs that are not advertised in mainstream and social media and are forwarded to recruitment agencies directly. 
This page lists Leeds recruitment agencies with their quick contact details so you can post your resume to multiple job placement agencies in a short time and speed up your job search.
This list of recruitment agencies in Leeds, England is equally effective for small businesses and startups that are looking to hire the best talent and build high performing teams.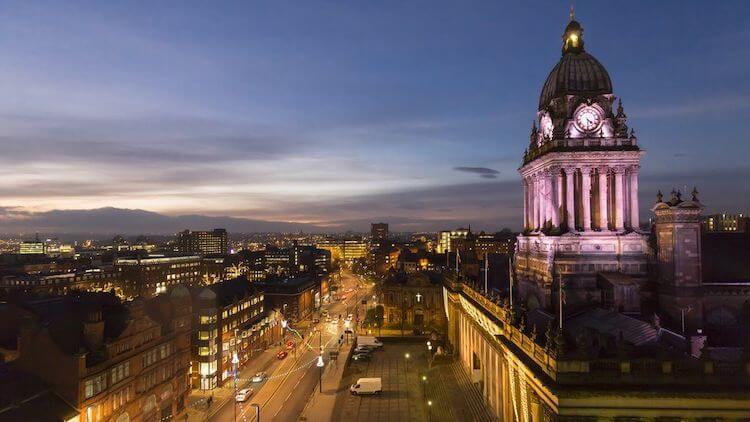 List of Recruitment Agencies in Leed, West Yorkshire, England
Lucy Walker
Address: Fountain House, 4 S Parade, Leeds LS1 5QX
Phone #: 0113 367 2880 ‎ · Website: lucywalkerrecruitment.com
Headway
Address: 1 City Square, Leeds, West Yorkshire LS1 2ES
Phone #: 0113 366 3250 ‎ · Website: headwayrecruitment.co.uk
Office Angels Ltd
Address: 123 The Headrow, Leeds LS1 5RD
Phone #: 0113 242 9966 ‎ · Website: office-angels.com
Computer People
Address: Springfield House/76 Wellington St, Leeds LS1 2AY
Phone #: 0113 218 6868 ‎ · Website: computerpeople.co.uk
Hays
Address: 3rd Floor Sovereign House, S Parade, Leeds, West Yorkshire LS1 5QL
Phone #: 0113 243 8384 ‎ · Website: hays.co.uk
J H R
Address: 4 York Pl, Leeds LS1 2DR
0113 233 7760 ‎ · Website: jhrecruitment.co.uk
Relay Recruitment Group
Address: King House, 3 King Street, Leeds LS1 2HH
Phone #: 0113 218 6262 ‎ · Website: relayrecruitment.co.uk
Julia Wade Recruitment Ltd
Address: 1 City Square, Leeds LS1 2ES
Phone #: 0113 366 3187 ‎ · Website: juliawade.co.uk
Catch 22
Address: 58 Albion St, Leeds, West Yorkshire LS1 5AA
Phone #: 0113 242 8055 ‎ · Website: c22.co.uk
Taskmaster Recruitment
Address: 36 Lower Basinghall St, Leeds, West Yorkshire LS1 5EB
Phone #: 0113 244 6367 ‎ · Website: tmrec.com
CLD Recruitment (Leeds) Ltd
Address: Aspect Court, 47 Park Square E, Leeds LS1 2NL
Phone #: 0113 394 4112 ‎ · Website: cldrecruitment.co.uk
Blue Arrow Office
Address: 18 Park Row, City Centre, Leeds LS1 5JA
Phone #: 0113 242 7288 ‎ · Website: bluearrow.co.uk
Search Recruitment Consultancy Leeds
Address: 10/12 E Parade, Leeds LS1 2AJ
Phone #: 0113 308 8000 ‎ · Website: searchconsultancy.co.uk
Randstad
Address: 1 Albion Pl, Leeds, West Yorkshire LS1 6JL
Phone #: 0113 218 6900 ‎ · Website: randstadstaffing.co.uk
Manpower UK Ltd
Address: 12 Infirmary St, Leeds, West Yorkshire LS1 2TP
Phone #: 0113 243 8871 ‎ · Website: manpower.co.uk
EMR
Address: Park Row House, 19-20 Park Row, Leeds, West Yorkshire LS1 5JF
Phone #: 0113 203 1600 ‎ · Website: emrrecruitment.co.uk
Eden Brown
Address: St. James House/28 Park Pl, Leeds LS1 2SP
Phone #: 0113 394 0133 ‎ · Website: edenbrown.com
Bridge
Address: Toronto Square, Toronto St, Leeds LS1 2HJ
Phone #: 0113 380 1919 ‎
gap personnel
Address: 29 St Paul's St, Leeds, Yorkshire LS1 2JG
Phone #: 0113 204 8585 ‎ · Website: gap-personnel.com
Education Leeds
Address: 14 King St, Leeds, West Yorkshire LS1 2HL
Phone #: 0113 246 2500 ‎ · Website: randstadeducation.co.uk
Pertemps Leeds
Address: Park Row House, Park Row, Leeds, West Yorkshire LS1 5JF
Phone #: 0113 246 9339 ‎ · Website: pertemps.co.uk
IPS Group
Address: 8 St Paul's St, Leeds, LS1 2LE
Phone #: 0113 202 1577 ‎ · Website: ipsgroup.co.uk
Robert Half Finance & Accounting
Address: Sterling House, The Bourse, Leeds LS1 5EQ
Phone #: 0113 242 8978 ‎ · Website: roberthalf.co.uk
Badenoch & Clark
Address: West Riding House, 67 Albion St, Leeds, West Yorkshire LS1 5AA
Phone #: 0113 231 4545 ‎ · Website: badenochandclark.com
Hays Secretarial
Address: Sovereign House South Parade, S Parade, Leeds, West Yorkshire LS1 5QL
Phone #: 0113 247 1595 ‎ · Website: hays.co.uk
Travel Trade Recruitment Ltd. – Leeds
Address: Aspect Court, 47 Park Square E, Leeds LS1 2NL
Phone #: 0113 394 4147 ‎ · Website: traveltradejobs.com
Spring Personnel
Address: 112 Briggate, Leeds, West Yorkshire LS1 6BG
Phone #: 0113 244 3333 ‎ · Website: springpersonnel.com
Network Marketing Recruitment Agency
Address: West One, 114 Wellington St, Leeds, West Yorkshire LS1 1BA
Phone #: 0113 246 9605 ‎ · Website: networkmarketingjobs.com
Local Care Force
Address: 47 Upper Basinghall Street, Off the Headrow, Leeds, West Yorkshire LS1 5HR
Phone #: 0113 244 4644 ‎ · Website: localcareforce.co.uk
Independent Appointments (UK) Ltd
Address: 6 York Pl, Leeds LS1 2DS
Phone #: 0113 244 0846 ‎ · Website: iauk.co.uk
Reed
Address: Toronto Square, Infirmary St, City Centre, Leeds LS1 2HJ
Phone #: 0113 236 8950 ‎ · Website: reed.co.uk
Brook Street (UK) Ltd
Address: 17 Albion Pl, Leeds, West Yorkshire LS1 6JS
Phone #: 0113 243 6611 ‎ · Website: brookstreet.co.uk
Student Employment Services
Address: 4 York Pl, Leeds, West Yorkshire LS1 2DR
Phone #: 0845 131 3131 ‎ · Website: studentemploymentservices.co.uk
First Choice Recruitment
Address: 100 Wellington St, Leeds, West Yorkshire LS1 4LT
Phone #: 0113 207 0100 ‎ · Website: first-choice-uk.co.uk
Better Placed Recruitment
Address: 2 Concordia St, Leeds LS1 4ES
Phone #: 0113 236 4040 ‎ · Website: betterplaced.com
Charterhouse Recruitment Ltd
Address: 1 York Pl, Leeds, West Yorkshire LS1 2DR
Phone #: 0113 242 5599 ‎ · Website: charterhouserecruitment.co.uk
Anders Elite Ltd
Address: Minerva House, 29 E Parade, Leeds LS1 5PS
Phone #: 0113 242 0303 ‎ · Website: anderselite.com
Linear Recruitment
Address: 24 Aire St, Leeds, West Yorkshire LS1 4HT
Phone #: 0113 245 8468 ‎ · Website: linearrecruitment.co.uk
Hudson Global Resources Ltd
Address: 1 City Square, Leeds LS1 2ES
Phone #: 0113 297 9500 ‎ · Website: uk.hudson.com
RecruitmentAgenciesLeeds.com
Address: 57 Great George St, Leeds, West Yorkshire LS1 3AJ
Phone #: 0113 279 1339 ‎ · Website: recruitmentagenciesleeds.com
Thorn Baker Ltd
Address: 14 S Parade, City Centre, Leeds LS1 5QS
Phone #: 0113 244 4111 ‎ · Website: thornbaker.co.uk
OfficeTeam
Address: The Bourse, Leeds, West Yorkshire LS1 5EQ
Phone #: 0113 242 8941 ‎ · Website: officeteamuk.com
Recruitment Solutions (Leeds) Ltd
Address: 117 The Headrow, Leeds LS1 5JW
Phone #: 0113 380 1653 ‎ · Website: rec-solutions.net
Midas Selection Ltd
Address: 2 Wellington Pl, Leeds LS1 4AP
Phone #:  0870 756 0597 ‎ · Website:   midas-selection.com
You May Also Like