Bedford is certainly a good place to work and live in and the best part is the affordability which is way better here as compared to big cities like London. According to the "Cost of Living Plus Rent Index" to compare the cost of living, you would need around 3,107.85£ in Bedford to maintain the same standard of life that you can have with 4,800.00£ in London, considering you rent in both cities.
Consumer Prices in Bedford are 15.56%, rent is almost 60.93%, restaurant prices are 3.62%, and grocery prices are 16.93% lower than in London.
Bedford is a historic market town and the county town of Bedfordshire, England that offers its residents a great community as well as a host of exciting amenities. The town offers a very good quality of life, various job opportunities, and a reliable and robust transport network that connects the town with the rest of the country.
Moreover, with over 50 ethnicities in the town, Bedford is one of the most culturally diverse towns of its size in the United Kingdom. This cultural diversity offers a great way to learn from various cultures and also offers a lot of entrepreneurial opportunities that cater to the needs of a specific audience.
If you are based in Bedford or nearby and conducting a local job search, or you are based in another city and looking to find and get a job in a new city, do not rely entirely on the traditional job search. The local sections of the best international job sites are great resources for finding relevant jobs, you must also know that not all high-paying jobs are advertised on job portals and social media.
Many employers outsource staffing and hiring processes to the recruitment agencies and employment service providers who source them the best candidates.
Finding employment agencies in Bedford, Bedfordshire can be quite a time-consuming affair. To make things easier for you, this page lists all major recruitment agencies and employment services providers in Bedford, Bedfordshire, England.
Employment agencies listed with their quick contact details will surely speed up your job search and having your resume with multiple agencies will increase your chances of landing a better job.
This list of employment agencies in Bedford is equally useful for startups, business managers, and hiring departments of organizations to find the best talent, and build a team of high performers.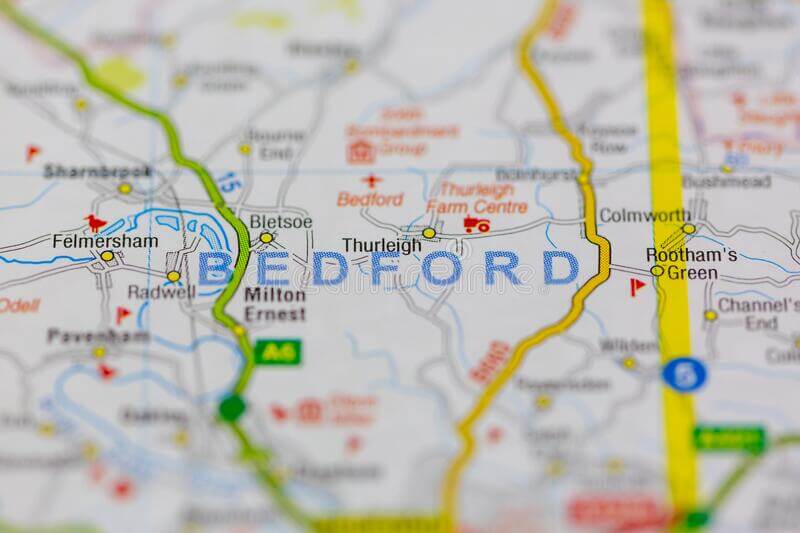 List of Employment Agencies in Bedford, England
BSS Recruitment
Address: Victoria House, 70A Tavistock St, Town Centre, Bedford MK40 2RP
Phone #: 01234 271660 ‎ –Website: bssrecruitment.com
Evolve Recruitment Bedford Ltd
Address: 33 Harpur Street, BedfordMK40 1LA
Phone #: 01234 215000 ‎ –Website: evolverecruitmentbedford.co.uk
Placing People Bedford Ltd
Address: 70 St Loyes St, BedfordMK40 1EZ
Phone #: 01234 327272 ‎ –Website: placingpeoplebedford.co.uk
AllStaff Recruitment Solutions
Address: Wolseley Rd, Kempston, Woburn Road Industrial Estate, Bedford MK42
Phone #: 01234 273232 –Website: allstaffrecruitment.co.uk
HRL Higgins Recruitment Ltd
Address: 75A High St, Bedford, MK40 1NE
Phone #: 01234 328446 –Website: higginsrecruitment.co.uk
Shepherd Stubbs Ltd
Address: 54 St Loyes St, BedfordMK40 1EZ
Phone #: 01234 269191 –Website: shepherdstubbs.com
M E M Recruitment
Address: 8A Mill St, Town Centre, Bedford MK40 3HD
Phone #: 01234 352732 ‎ –Website: mem-recruitment.com
Advancing People Ltd
Address: Dombey Court, Pilgrim Centre, Brickhill Drive, BedfordMK41 7PZ
Phone #: 01234 268012 ‎-Website: advancingpeople.co.uk
1st Choice Recruitment
Address: 8 St Loyes St, BedfordMK40 1EP
Phone #: 01234 210025 ‎ –Website: 1stchoice.net
Premier Associates
Address: 70 Tavistock St, BedfordMK40 2RP
Phone #: 01234 219220 ‎ –Website: premierassoc.com
Blue Arrow
Address: 44 Allhallows, Town Centre, Bedford MK40 1LN
Phone #: 01234 217001 ‎ –Website: bluearrow.co.uk
Osborne Appointments
Address: Mayfair House/Lurke St, Bedford MK40 3HZ
Phone #: 01234 347069 ‎ –Website: osborneappointments.co.uk
A S Professional Services Ltd
Address: 20C Miller Rd, BedfordMK42 9NZ
Phone #: 01234 326000 ‎ –Website: aspro-ltd.co.uk
Simply Education Ltd
Address: Manton Ln, BedfordMK41 7PH
Phone #: 01234 216199 ‎ –Website: · simplyeducation.co.uk
DMS Computer Recruitment
Address: 1 Union St, BedfordMK40 2SF
Phone #: 01234 214571 ‎ –Website: dmsitjobs.co.uk
Clifford Sells Ltd
Address: Bedford Business Centre, St Peters St, BedfordMK40 2PR
Phone #: 01234 355522 ‎ –Website: cliffordsells.com
Know How Ltd
Address: Spaces Business ParkElstow RdKempston, Bedford MK42 8PL
Phone #: 01234 262627 ‎ –Website: ibedfordshire.co.uk
Alliance Consulting
Address: Suite A2, Spaces Business Centre, Elstow Rd, BedfordMK42 8PL
Phone #: 01234 355311 ‎ –Website: alliance-consultinghr.co.uk
Orchid National Nursing Supply Ltd
Address: BedfordMK40 2RP, United Kingdom
Phone #: 01234 248960 ‎-Website: orchidnursing.com
Recruit2Legal
Address: Bedford I-Lab, Priory Business Park, Stannard Way, Bedford MK44 3RZ
Phone #: 01234 834753 ‎ –Website: recruit2legal.co.uk
Quest
Address: 11 Greyfriars, Bedford MK40 1HJ
Phone #: 01234 358844 ‎ –Website: questemployment.co.uk
Tradeline Recruitment
Address: 21G SaturnFacilitiesBedfordHeights, Manton Ln, Bedford MK41
Phone #: 01234 332960 –Website: tlrec.co.uk
Abacus Consulting
Address: 38 Mill St, Bedford, MK40 3HD
Phone #: 01234 831005 ‎ –Website: abacusconsulting.co.uk
IBBI Ltd
Address: 1-3 Bedford Rd, Great Barford, Bedford MK44 3JD
Phone #: 01234 870420 –Website: ibbi-ltd.co.uk
Verifile China
Address: Bedford i-Lab, Stannard Way, PrioryBusinessPark, Bedford MK44 3RZ
Phone #: 01234 834670 ‎ –Website: verifile.cn
Driver Hire Bedford
Address: 38 Mill St, Bedford, MK40 3HD
Phone #: 0845 058 0385 ‎ –Website: driverhire.co.uk
Healthcare Capital UK Ltd
Address: 44-46 Bunyan Rd, Bedford MK42 8HL
Phone #: 0845 634 3881 ‎
Lexa HR Consultancy Ltd
Address: 38 Mill St, Bedford, MK40 3HD
Phone #: 01234 245542 ‎-Website: lexahr.co.uk
D R S Direct Ltd
Address: Broadway News, 11 The Broadway, Bedford MK40 2TE
Phone #: 01234 340482 ‎ –Website: drsdirect.co.uk
Workplace Doctors
Address: 51 Honey Hill Rd, BedfordMK40 4NS
Phone #: 01234 305254 ‎ –Website: workplacedoctors.co.uk
Specialist Recruitment Partners
Address: KnowledgeCentreWybostonLakes, Great North Rd, Wyboston, Bedford MK44 3BY
Phone #: 01480 471068 ‎ –Website: srpartners.co.uk
Sales Recruitment Services
Address: BedfordMK42 5BD, United Kingdom
Phone #: 01234 826450 ‎
Access Europe HR Ltd
Address: 70B High St, BedfordMK40 1NN
Phone #: 01234 218181 ‎ –Website: accesseurpehr.co.uk
2B Interface
BedfordHeights, Brickhill Dr, BedfordMK41 7PH
Phone #: 01234 272792 ‎
Alfa IT Recruitment Ltd
Address: 10 Stephenson Court/Fraser Rd/Priory Business Pk, BedfordMK44 3WH
Phone #: 01234 831567 ‎ –Website: alfaitrecruitment.co.uk
Barton Petroleum Ltd
Address: Highfield Rd, Oakley, Bedford MK43 7TA
Phone #: 01234 822488 ‎ –Website: bartonpetroleum.co.uk
Reliance care agency limited
Address: 87 The Boundary, Bedford MK41 9HA
Phone #: 01234 340774 (Fax) ‎ –Website: reliancecareagency.co.uk
Aptus Personnel Ltd
Address: 30 Brunel Rd, BedfordMK41 9TJ
Phone #: 01234 345515 ‎
Social Work Inc
Address: Suite A/Union St, BedfordMK40 2SF
Phone #: 01234 365659 ‎
Argyle Partnership
Address: Recruitment for Solicitors, Clifton House, Goldington Road, BedfordMK45 3DD
Phone #: 01234 343324 ‎ –Website: argylepartnership.co.uk
DMS Computer Recruitment
Address: 23 Stanhope Rd, BedfordMK41 8BU
Phone #: 01234 214571 ‎ –Website: dmsitjobs.co.uk
IT Connections Limited
Address: The Saturn Centre, BedfordHeights, Manton Lane, Bedford, UKMK41 7PH
Phone #:  01234 363696 ‎ –Website: itconnections.co.uk
You May Also Like